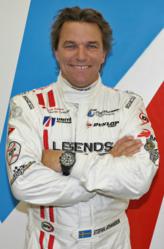 Until you actually drive a modern racing car it is hard to comprehend how violent the environment inside the car is, and this, in my opinion, is a fantastic way to really test the watches 'real time'
Houston, TX (PRWEB) December 11, 2012
Amatyzt.com, an online boutique that specializes in unique and limited pieces by extraordinary designers, is happy to announce that is it now an authorized retailer for the sports luxury watch line Stefan Johansson Vaxjo Watches. "Stefan could have lent his name to any sporty watch brand, but instead, he created these gorgeous timepieces with very personal touches," explains Alexa Ronngren, President of Amatyzt.com, "They are sporty and luxurious - with the precision you would expect from both Johansson and Swiss movements!" After thirty-plus years in the racing business, Johansson's career has included Formula 1, Indycar, and sports car racing for a number of prestigious manufacturers and teams such as Ferrari, McLaren, Porsche and Mercedes. Among his memorable wins are at the 24 Hours of LeMans and two triumphs at Sebring. But lately the active racer has been taking an unexpected passenger along for a ride… Stefan Johansson Vaxjo luxury watches are tested by Johansson and his colleagues on professional tracks.
These stylish luxury watches are only produced in limited edition, often much less than a couple hundred pieces. Prices for SJ Vaxjo luxury watchesranging between $7,500 - $19,500. To make it easier to get a great watch and great jewelry, Amatyzt.com offers one reward point for every $10 a customer spends on the site. Reward points are equal to currency for future Amatyzt purchases. "All our luxury products in our reward program even though that means we are essentially giving free jewelry with any luxury purchases on Amatyzt.com," explains Alexa, "It is part of our company culture that customers will be treated fairly, with warmth and hospitality." The online boutique is carrying all of Stefan Johansson Vaxjo's Mark VIII Collection, which is divided into four series inspired by a specific phase or aspect of his illustrious career.
Mark VIII C
Stefan Johansson's memorable victory at the 24 Hours of LaMans inspired the synchronous elegance of the Mark VIII C series. "If there's such a thing as romance in a race car, the Le Mans 24 Hours captures that feeling perfectly. Every lap you are trying to beat your own best, your body and brain are in tune with the car and the track," explains Johansson. One distinct feature of this automatic chronograph is an hour register subdial that is cleverly engineered to tick backwards, "counting down" 24 hours in a nod to the duration of the legendary competition. The function anchors a colorful dial that blends conventional time and date measurement with stopwatch precision.
Large military-style hour indexes, a date indicator and a beveled 5/10 second stopwatch scale are highly visible under a convex anti-glare coated sapphire crystal. Skeletonized hands with Superluminova coated tips also ensure maximum legibility under all conditions.
Mark VIIID
As one who has had the rare privilege of piloting the legendary Type 156 Ferrari and just about every kind of race car since, Johansson is well placed to create a watch that unites classic and modern racing cues.The Mark VIIID marries a retro-style chronograph with a thoroughly modern accent – a carbon fiber inner ring. Encircled by a chronograph scale in red, the dial also features a skeletonized aperture, offering the wearer and others a peek at the automatic mechanical movement that powers the timepiece.Stainless applied screws and the numbers 15, 30, 45 and 60 replace standard hour markers.
Mark VIIIE
Speed. Color. Concentration. These are the hallmarks of Formula 1 racing. As a seasoned F1 driver, Johansson captures the essence of the 103 Grand Prix he has raced in the Mark VIII E chronograph. The ten official flags of the Fédération Internationale de l'Automobile ring the bezel of this winning design, where they serve as hour index markers, and channel the clarity and alertness required of a driver whose eyes are truly on the prize.
Mark VIIIF
Once upon a time, Johansson's father – a racer before him – was known in the sport as "Leaf." Once Johansson himself entered auto racing, he acquired the nickname "Little Leaf"- an emblem he has displayed on helmets throughout his career, and now on his watches. The Mark VIII F watch juxtaposes this and other playful details with several complications. The black dial is perforated to recall the drilled bumpers and body panels of historic sports racing cars, which were "holed" to decrease weight. Oversized, highly legible military style numbers mark the hours at a glance while the smaller figures around the bezel draw the eye to one of the Mark VIII F's signature complications- a date display sweep center hand tipped with the signature leaf, which cleverly points to the days of the month. Three chronograph subdials indicate hours, minutes and seconds while the 12-hour countdown register honors one of horology's most traditional complications, the moon phase. Here, in a tongue-in-cheek twist, Johansson renders the moon as a smiley face.
ABOUT AMATYZT AND ITS DESIGNERS
Amatyzt.com is an online jewelry boutique that specializes in unique designer jewelry by notable designers from all over the world. Founder Alexa Ronngren came up with the idea after meeting an award winning jewelry designer who despite having talent and accolades didn't have the marketing knowledge to promote her brand. Coming from a family with four generations in the gemstone business, Alexa has been able to curate a special collection of beautiful, high quality jewelry, watches and accessories on Amatyzt.com. Some designers are international award winners, others are well respected in their home market, and a few are emerging stars just starting to get discovered. The site's handpicked international array of designers includes Maria Moreno from Argentina, Mikky Eger from Milan, Atelier Orafo from Florence, Patrick Jerer from Beirut, Posse & Rake and Perihan Tufan from Australia, Sissai from Peru, Gwel and Unity Watches from Barcelona, Leonor Heleno from Paris, and PavlinaJewel from Athens. In the US, we have Pia Cevallos, ShinYi, Georgean Beauty, and Alex Klien. Despite coming from different corners of the world, they all share a passion for creating interesting, gorgeous, and uncommon jewelry.