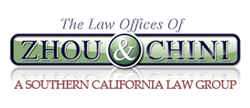 Speak to a bankruptcy lawyer in Anaheim today, get a free 30 minute consultation.
Anaheim, CA (PRWEB) June 17, 2013
The Law Offices of Zhou & Chini wish to make those living in Anaheim aware that foreclosure proceedings can be stopped through bankruptcy. The lawyers recently released marketing efforts to offer the help those in trouble with their homes. The bankruptcy attorneys in Anaheim utilize existing laws to stop lenders from foreclosing on, and repossessing homes in the area. Homeowners can possibly alleviate their financial crisis, as well as prevent the loss of their homes where families have been raised, and a comfortable existence has been established. Being placed in the foreclosure process by a lender is an extremely stressful experience.
With the California real estate market taking such a hard hit, and the economy struggling, thousands of residents are still in danger of losing their homes. Not only does foreclosure cause a great amount of financial stress, but it also causes heartbreak from losing a home that contains any equity, hard work and precious memories, and a comfortable place where they are accustomed to living. Many Californians have taken out second mortgages, and HELOC's in order to make home improvements, or to help pay off credit card and other forms of debt. These loans that were taken out in the past has put some homeowners upside down in their equity. Although Anaheim residents can attempt to negotiate with lenders for loan modifications, the reality is that many lenders are still declining some requests. This leaves many homeowners caught in a debt that they cannot handle and which ultimately leads to them losing their homes through bank foreclosures. To find out how to stop a foreclosure with a Chapter 13 bankruptcy, or to learn more about the different bankruptcy options available visit, http://bankruptcyattorneyorangecounty.org/chapter-13-bankruptcy-orange-county
One way out of foreclosure in Orange County is to utilize the professional skills of the bankruptcy attorneys in Anaheim. Such lawyers acquired through the Law Offices of Zhou & Chini can assist homeowners with filing Chapter 13 bankruptcies. Filing Chapter 13 bankruptcy containing a lien strip motion allows the homeowner to both prevent their home from going into foreclosure, and to rid themselves of their second (or third) mortgage as long as that mortgage is "underwater". This action eliminates the pressure from the bank and allows the homeowner to follow a set court ordered payment plan in order to catch up on any back debt owed and pay off their mortgage.Because most Orange County homes, including many in Anaheim, possess unsecured second mortgages, attorney James Zhou says that this is a perfect chance for homeowners to strip away those liens and get their finances back on track. The best way to discover what type of bankruptcy an individual qualifies for, is to get in touch with an experienced bankruptcy bankruptcy lawyer, and most like the law offices of Zhou & Chini offer a no cost consultation.
Homeowners who are either facing foreclosure or who have already been placed into foreclosure proceedings can contact the Law Offices of Zhou & Chini by calling the toll free number of (888) 901-3440. The bankruptcy lawyers in Anaheim will be able to provide legal advice or determine whether homeowners qualify for this particular motion. A professional SEO company has been helping the bankruptcy lawyers with internet marketing to help promote the message about the importance of speaking with an experienced bankruptcy attorney in Anaheim CA, when an individual is considering filing for bankruptcy. The bankruptcy firm continues its online presence by offering no cost bankruptcy information on the firm's blog and social media bankruptcy pages. This information along with zero cost consultations the Anaheim bankruptcy attorneys hope to help more homeowners learn about bankruptcy and what options they may have. To read more on the bankruptcy attorney Anaheim Facebook page visit, http://www.facebook.com/BankruptcyAttorneyAnaheim
Law firm co-founder James Zhou has been practicing law since graduating from UCLA in 1999. Mr. Zhou and his entire legal team are experienced in the areas of Bankruptcy, Family Law, Criminal Law, Civil Litigation and Unlawful Detainers which includes both Probate Matters and Trial Experience. Every client is provided with a no cost 30-minute consultation and all cases are carried through to completion by an actual experienced attorney and are never shuffled to a paralegal assistant. More information can be obtained by visiting the law firm's website, http://bankruptcyattorneyorangecounty.org/bankruptcy-attorney-anaheim
Contact: Ron Chini
Phone: 888-901-3440