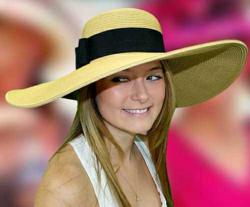 Long days at the derby make skin vulnerable to sun damage.
San Diego, CA (PRWEB) April 09, 2013
SunGrubbies.com, a leading retailer in sun protective products welcomes stylish sun protective derby hats. These affordable high fashion hats come with a very important feature; they offer the ultimate in sun protection by blocking 98% of damaging UV (ultraviolet) sun rays.
Long days at the derby make skin vulnerable to sun damage. Wearing a large brim derby hat is important because these hats will shade the face and neck and if the brim is large enough, the shoulders.
SunGrubbies.com has many styles to choose from. Favorites like the popular Rebecca, Chloe and Scarlet are still available but be sure and check out the new entries this season; The Melanie Kentucky Derby Hat and the Marilyn Straw Sun Hat. These two hats are sure to turn heads.
A hat destined for the winner's circle is the Melanie. The six inch brim of the ultra feminine hat is designed to flatter and not overpower. An odds-on-favorite to create attention, this lightweight hat is neutral in color but not in style. Wear it as it is or decorate it for the derby or any summer party.
The Marilyn Straw Sun Hat is a vintage designed boater style hat. This hat is made from highly sustainable raffia and its tight weave provides excellent sun protection. The simple style of this classic hat can be easily adorned with festive accents to design a one-of-a-kind creation.
Damaging UV rays are the number one cause of premature aging as well as skin cancer. To keep skin youthful and healthy it is important to cover exposed areas of the skin. Fabric will provide the best barrier to UV rays. If skin cannot be covered, wear sunscreen and seek shade whenever possible.
Since the founding of the company in 1997, the mission of SunGrubbies.com has been to provide attractive and comfortable sun protective clothing and accessories of the highest quality and reliability at affordable prices. Many of their products have been approved and recommended by the Skin Cancer Foundation and the Melanoma International Foundation. Every product has been laboratory tested for their sun protective ability and every purchase is 100% guaranteed.
Visit http://www.sungrubbies.com for more information about their sun protective products. They can also be reached toll free at (888) 970-1600. Check them out on Facebook. To join the SunGrubbies.com affiliate program, go to http://bit.ly/ifRDrH. Their boutique showroom and hat shop located in San Diego is open by appointment.