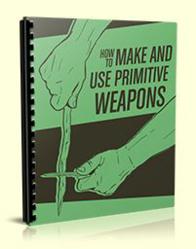 The Primitive Weapons report is part of Survival Life's continuing efforts to keep people informed about the most important aspects of prepping and survival.
Austin, TX (PRWEB) February 17, 2013
Weapons for survival purposes don't have to be sophisticated, said a recent Survival Life article. This is being proven by the latest Special Report from Survival Life. How to Make and Use Primitive Weapons is the full-scale source for constructing and brandishing weapons just as effective as a gun or a knife, said the article.
The Primitive Weapons report is part of Survival Life's continuing efforts to keep people informed about the most important aspects of prepping and survival. If a disaster hits a community, the article said recent events have shown that looting and violence are a natural aftereffect.
People need to be prepared to defend themselves and their loved ones from danger, and they may very well need to use weapons to catch wild game for food, said the article. The Special Report covers both aspects of homemade weapon use, and advises on the best strategies for mastering the skills.
Attackers can be debilitated much easier than people would think, and that likelihood increases with the use of a weapon, according to the article. A brick, a chunk of wood, or even a toothbrush can be manipulated into a reliable self-defense tool, and the Special Report will explain the best ways to use each. Leather belts, glass bottles, and even bike helmets are all useful weapons in some way, but only with the right approach and advice, said the article.
Making homemade weapons is just one part of the process, which is why Survival Life was sure to pay a significant amount of attention to the techniques and tactics involved with using each one. Some suggestions from the Primitive Weapons report can be dangerous if not taken seriously and done properly, warned the article. That's why Survival Life advises practicing the suggested techniques well before they may be needed in an emergency.
Small game, like rabbits, squirrels, or lizards, can be taken down with the right weapon, and the article said the Special Report highlights the best ones to use for each situation. Larger game, like ducks, geese, and even deer can be killed using the strategies, creating a unique way to ensure food will be available in the worst of situations.
The article said that people are learning how the combination of quick thinking and practiced skills can literally save a life, thanks to the Primitive Weapons Special Report. Survival Life takes their role as community leader and conversation starter seriously. When it comes to disaster preparation, the How to Make and Use Primitive Weapons Report is as essential as food storage or evacuation plans, according to Survival Life.
SurvivalLife.com is a non-politically biased source that is geared toward the survival side of prepping. Subscriptions to the daily Newsletter brings all of the latest information from SurvivalLife.com straight to readers' inboxes.
Whether readers need wilderness survival tips or strategies to plan for an urban disaster, SurvivalLife.com covers it all. Well on its way to becoming a preeminent member of the survival blog-o-sphere, SurvivalLife.com is contributing to the conversation and hopes readers do as well.
The article said creating weapons for survival from household and natural items is a great skill to have, and advised accessing the Special Report now to start learning the information as soon as possible.