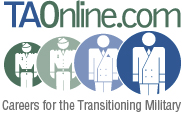 ...there are some 20,000 jobs posted on TAOnline, from employers that have committed to hiring our country's heroes.
(PRWEB) September 27, 2012
TAOnline.com, a career site specializing in veteran job referrals, has been helping the transitioning military find civilian careers since 1996. According to the US Department of Labor, "there are more than 750,000 unemployed US veterans with their unemployment rate close to 7%," explains David Hirsh, TAOnline, Manager of Operations, "The numbers have improved over the past year, but they're still unacceptable," continues Hirsh, "We're doing our part in reducing these numbers and helping our vet candidates with site-wide enhancements, awareness through social networks, new partnerships and services, and new campaigns."
One of the major difficulties vets face when trying to enter the civilian workforce is translating their military job titles into similar civilian occupations. New, easy-to-use, tools on TAOnline aid in making this translation a non-issue. Furthermore, "the civilian title and its associated keywords are immediately converted into matching jobs from military-friendly TAOnline member companies," states Hirsh. Along with these job search results, the job seeker is also presented with jobs in their location and other relevant jobs. "Although there are some 20,000 jobs posted on TAOnline, none are derived from sources other than legitimate TAOnline employers that have committed to hiring our country's heroes. We are about quality, not quantity," says Hirsh.
Similarly, TAOnline has made major improvements in employer resume search features. Employers have been frustrated with the difficulties associated with finding former-military candidates because the resumes can be littered with unknown military acronyms and confusing codes. TAOnline's new resume searching removes that complexity behind the scenes using its advanced translation algorithms. "We've been working with TAOnline for our military hiring needs for a while now. It's great to see the new improvements and resume search simplicity," explains, Marian Hyder, VP of Talent Management for URS. Employers can now search through military resumes the same way they do for civilian resumes.
Ingrained in the new website is a brand new Featured Hero service that spotlights highly skilled, vets seeking employment. By offering this unique enhancement, TAOnline has further committed to helping place these individuals into deserving careers. This completely free job seeker program provides vets with a better platform to tell their story by exposing Featured Hero profiles throughout the site, on TAOnline partner sites, relevant social network forums, and more. Employers can view these Featured Hero profiles and resumes free of charge. "We're frequently perplexed by some of the candidates we see without a job," explains Debbie Glynn, TAOnline, Senior Account Executive, "The Featured Hero program is our way of saying thank you to these particularly special people," continues Glynn.
The new site has more subtle technology improvements as well, including a more updated design, faster pages, a mobile platform, and optimizations for search engines, making it easier for job seekers to connect with employers. The new TAOnline.com site will continue to offer timely, relevant and enlightening advice on career transitions from a host of expert authors and career counselors in an organized, easy-to-read format.
For more information regarding TAOnline.com's new website and features, contact Ron Rutherford at 404-806-2005 x 217 or visit http://www.taonline.com.
About TAOnline.com
Since 1996, TAOnline.com (Transition Assistance Online) has been able to help the nearly 200,000 service members who transition from active duty every year as well as the hundreds-of-thousands of veterans, reservists, guardsmen, and spouses looking for civilian jobs. Our career site is dedicated to their placement in careers that fit their extraordinary motivation, loyalty, and skill. TAOnline.com assists our country's heroes in gaining employment at the world's finest military-friendly companies.