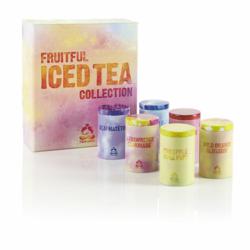 To celebrate summer, Teavana launched a new line of products, including a set of Fruitful Iced Teas and stylish new tea accessories.
Atlanta, GA (PRWEB) June 13, 2012
Teavana, known for procuring the world's finest loose leaf tea, launched brand new tea products and accessories to celebrate the summer season. Focusing on delicious Fruitful Iced Teas, these summer products feature gift sets and new Teavana-exclusive tea wares.
Tasty and refreshing drinks are one of the best ways to beat the heat during the summertime. That's why Teavana has created the irresistible Fruitful Iced Tea gift set. This new collection of teas embodies the essence of summer with six fun and fruity blends: Acai Matetini Mate Tea®, Blueberry Bliss® Rooibos Tea, Wild Orange Blossom Herbal Tea, Opus Rouge Rooibos Tea®, Pineapple Kona Pop® Herbal Tea, and Strawberry Lemonade Herbal Tea. The gift set also comes with six tins to store the teas and 12 oz. of German rock sugar. Tea lovers can stay hydrated all summer long mixing the blends together and finding new flavors.
For serving this delicious new collection of teas, Teavana has launched several stylish types of tea ware. Perhaps the most elegant of which is the new Tristan Infuser Pitcher. Featuring a borosilicate glass construction to resist heat, this 64 oz. pitcher has a built-in stainless steel infuser that can be removed once your tea has finished steeping. Its modern aesthetics and functional design make it perfect for serving Fruitful Iced Tea to your family and friends on hot summer days.
Of course, what would summer be without summer vacations? Just because you are traveling, doesn't mean you can't have your tea and drink it too. The Tea Voyager Travel Kit makes it easy to bring your tea along with you wherever you go. The set includes two short tins, a tall tin that doubles as storage for the included stainless steel infuser stick (which also serves as a tea scoop), and a neoprene case to carry it all.
Naturally, an important part of brewing perfect batches of tea is keeping the tea leaves fresh. Teavana already offers a robust selection of tea tins, but these two designs for the summer are quite trendy. Teavana's new stoneware tea canisters come in Chocolate and White colors. The Chocolate canisters all have unique coloring due to the special reactive glaze. Both colors feature an Acacia wood lid – which also has natural color variations. Inspired by 1950's ceramic styles, these canisters will store your tea and look great while doing it.
These innovative products are just a sampling of what Teavana has in store for summer. Shop for tea and tea accessories online by visiting Teavana.com, where you can see the full collection of summer teas and tea accessories.
About Teavana
Teavana is a specialty retailer offering more than 100 varieties of premium loose-leaf teas, authentic artisanal teawares and other tea-related merchandise through 223 company-owned stores and on its website. Founded in 1997, the company offers new tea enthusiasts and tea connoisseurs alike its "Heaven of Tea" retail experience where passionate and knowledgeable "teaologists" engage and educate them about the ritual and enjoyment of tea. The company's mission is to establish Teavana as the most recognized and respected brand in the tea industry by expanding the culture of tea across the world. To support the tea culture globally, Teavana donates approximately 1% of annual net profits to the Cooperative for Assistance and Relief Everywhere, Inc., or "CARE," through its Teavana Equatrade program. For more information, visit http://www.teavana.com.