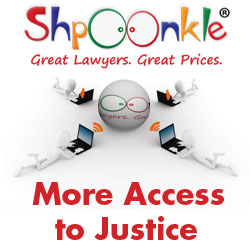 Social Media and Technology to promote increased access and awareness to affordable legal services.
Miami, FL (PRWEB) October 11, 2012
Shpoonkle's new interface and features are successfully and effectively channeling social media and technology. These developments are providing greater access and communication between attorneys and potential clients online. The site also provides a greater level of conversion for attorney and client connection than most other traditional means of online legal sites.
Legal Consumers and Attorneys who are using the services on Shpoonkle.com have increased both awareness and access to legal services. The service allows clients an anonymous and free forum to seek out attorneys and the power to negotiate pricing. Leveraging technology and social media has allowed Shpoonkle to successfully promote consumer savings and significantly increase online conversion of clients for attorneys on the site.
Attorney members who are already using the internet for virtual offices, elawyering, blogs, and social media are now finding greater results on Shpoonkle. Many Shpoonkle attorney members have used conventional legal marketing tactics promote exposure online, but find they don't always create relationships. Tactics and strategies are just that, they are specific paths and decisions to get certain responses. Many attorneys routinely promote their practice online to find more clients and business. The member feedback from members has been that posting an internet ad or doing SEO may get their law firm ranked better on the search engine, but it does not connect the lawyer directly to the client.
Shpoonkle provides the "target market" for attorneys where their clients and needs are waiting to be served and met. The legal reverse auction model has proved far more effective for many member attorneys than the conventional means of online tools. Founder of Shpoonkle Robert Niznik stated: " Many people will post to an attorney or legal blog, where the attorney isn't sure about the seriousness of the post, or if the person is trying to retain a lawyer or just get free advice? Shpoonkle knows that target markets are situational. Where are the target customers for attorneys? They are on Shpoonkle. Shpoonkle provides the most convenient, cost effective way for people to get an attorney. The client is virtually in front of the attorney on Shpoonkle, whether they are retained is based on how well the attorney presents themselves and the competitiveness of their pricing."
One of the new features Shpoonkle has launched recently is sending out alerts via social media and email to attorneys in every state and area of law, when a specific client needs an attorney that matches their experience, geography, and practice area. This highly successful method utilizes social media to bring clients actively looking for assistance right to the lawyer's inbox, mobile device, or other specified destination.
Shpoonkle provides a niche site where attorneys can put their credentials and qualifications in a centralized place, and alert clients that they have flexible pricing models and fees. All consumers love to save money, and if an attorney is on a site known for saving money, there is an increased conversion rate for actual clients with real cases.
Shpoonkle's approach is "real world" in its model when utilizing social media and technology to promote innovation in legal services. The site focuses on networking and establishing connections between lawyer and perspective client. Although the client's case posts are anonymous, the service allows client and attorney live and real time interaction.
Social media and technology work on Shpoonkle, because it's about getting results for both client and lawyer.
About Shpoonkle
Shpoonkle promotes advocacy to their members with free services. Shpoonkle is an innovative free web site that allows clients to confidentially post a legal case on line where attorneys bid for that case. The client has the option to pick any of the bidders and can communicate privately with the attorneys.