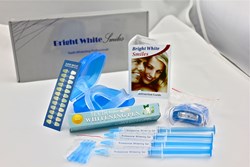 I used this kit the recommended 2 weeks and that cycle ended about 3 weeks ago. My teeth are still white. I'm not sure if it is because I use the night pen a couple times a week but I really like it. And the pen seems to last a long time.
Newport Beach, CA (PRWEB) February 01, 2013
EarthWorks, a popular amazon.com retailer is pleased to announce the availability of their new and breakthrough teeth whitening system Bright White Smiles Silver Collection that guarantees results within the first seven days and is only available in select local retailers and the Amazon.com marketplace.
The kit has been upgraded to include 4 syringes containing 35% peroxide professional whitening gel, led light to increase whiteness and gel uptake, syringe caps, shading guide, 2 teeth trays with case and a teeth whitening pen for on the go or night time usage. The new kit includes everything that would be used in any professional top of the line professional teeth whitening treatment system.
Nothing ruins a beautiful smile faster than dingy, yellowing teeth. Lifestyle choices, eating habits, and age all contribute to give teeth an unsightly appearance that can have a negative impact on our professional appearance as well as our social life.
Technology has made it possible for people to turn back the clock and return their smiles to the bright, dazzling white of youth, but professional teeth-whitening treatments can be costly and time consuming compared to at home teeth whitening kits. The Bright White Smiles Silver Collection Kit is a cost-effective alternative that offers a money back guaranteed solution to dull, discolored teeth. This system, is easy to apply and inexpensive compared to professional dentist treatments. Best of all, the product can be used in the privacy of one's own home.
Simply apply the gel twice per day for 7 days days and watch a brighter, whiter smile appear. A teeth whitening pen is included as a free bonus to be used after you have achieved the results you desire and need to keep up your white smile. Up to 90 percent of Bright White Smiles customers noticed a difference within the first week of use.
Bright White Smiles is as confident in their teeth whitening kit as their customers will be with their new smile. In fact, they are so confident in this product they even offer a 30-day no questions asked refund if their customers are dissatisfied for any reason.
To find out more about the at home teeth whitening kit by EarthWorks you can visit their amazon storefront or visit select local retailers in Southern California. Currently the Bright White Smiles kit is being offered at only 39.95 for a limited time.