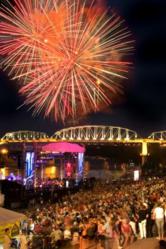 Grab an American flag, a corndog and get ready for some of the best Independence Day celebrations.
Nashville, Tenn. (PRWEB) June 21, 2013
Tennessee flies the red, white and blue and expresses its American pride with a plethora of parades, fireworks, music and more. Grab an American flag, a corndog and get ready for some of the best Independence Day celebrations.
Tennessee's prominent Independence Day events kick off with Gatlinburg's July 4th Midnight Parade beginning midnight July 3 on East Parkway. It will mark its 38th year by honoring Women Veterans and Other U.S. Heroes. Also featured in the parade will be the 572nd U.S. Air Force Band, U.S. Army, Navy, Marines, Air Force and Coast Guard, military vehicles, decorated and lighted floats, horses and vintage cars.
Nashville knows how to throw a party. This year's July 4th celebration, "Let Freedom Sing," won't disappoint with two days of free live music and incredible fireworks at The Lawn at Riverfront Park July 4th and 5th. The Band Perry, Keb' Mo', Ten Out of Tenn, Striking Matches and the Grammy Award-winning Nashville Symphony will provide music for festival goers. The event will culminate in an epic fireworks display, accompanied by the Nashville Symphony as they perform a medley of beloved orchestrations.
In Memphis, food, fireworks and games can be found at the 4th of July Celebration and Fireworks Display at Mud Island River Park. Pack a picnic; stay all day and at nightfall one of the best fireworks displays will be set off.
Additional Independence Day celebrations from around the state have been consolidated for convenience. For a complete list, visit http://www.tnvacation.com/calendar.
EAST
July 3
Chattanooga, Tenn. – Pops on the River & Fireworks – Pack a picnic and enjoy music by the Chattanooga Symphony and Opera Orchestra at Coolidge Park with a fireworks show at 9:45 p.m.
July 4
Pigeon Forge, Tenn. – Larry Gatlin and the Gatlin Brothers will perform before the night sky lights up with July 4 fireworks at Patriot Festival. A kids' play area and food vendors open at noon, and the music begins at 1:30 p.m. The Gatlins' appearance is at 8:30 p.m., and the fireworks start at 9:45 p.m.
Etowah, Tenn. – Etowah Old Fashion Fourth of July Celebration – The all-day celebration begins at 7:30 a.m. with a road race, pancake breakfast, music and more with the largest firework displays in the region and a big band performance until 11 p.m.
Knoxville, Tenn. – Festival on the Fourth – A wide variety of entertainment will begin at 2 p.m. with the conclusion of the fireworks display at 10 p.m. at World's Fair Park.
Bell Buckle, Tenn. – Fourth of July Celebration – Big and bright fireworks along with great music are featured 6 p.m. at Bell Buckle Park.
Rossville, Tenn. – Lake Winnepesaukah's Independence Day Weekend Fireworks – Miniature golf, food, rides and games with a fireworks display are included.
Norris, Tenn. – July 4th and Anvil Shoot – Go back in time to how pioneers celebrated the nation's independence with an anvil shoot, food, clogging, spinning, blacksmithing and more.
Morristown, Tenn. – Party in the Park 2013 – Steel Magnolia will headline the event at Cherokee Park. Tickets are $5.
MIDDLE
July 3
Hendersonville, Tenn. – Freedom Fest – Vendor and food booths, entertainment and a Kidszone will begin at 5 p.m. with a fireworks display at 9 p.m. Tickets are $5 and $15 for a family of five.
Clarksville, Tenn. – Old-Fashioned Independence Day Celebration – Carnival games and fun begin at 6 p.m. Clarksville's largest fireworks display begins at 9:30 pm. at Liberty Park.
July 3-4
Waynesboro, Tenn. – The fireworks show will take place July 3 with an all-day celebration of music, food and fun July 4 in the city park.
July 4-7
Opry Mills, the largest outlet and value retail shopping destination in the state, is offering even deeper discounts during its designated Super Sale Weekends.
July 6
White House, Tenn. – Americana Independence Day Celebration – Pancake breakfast, tractor show, auction and more with fireworks at 9 p.m. at White House City Park.
WEST
July 3
Collierville, Tenn. – Independence Day Celebration – Live music, food and inflatable games for children at 5:30 p.m. with a fireworks display at 9:30 p.m.
July 4
Selmer, Tenn. – Freedom Fest – Parade, live music by Dead Horse and a fireworks show all beginning at noon at Selmer City Park.
Memphis, Tenn. – Summer Concert at Patriot Lake – Enjoy a sunset concert, celebrating Independence Day and food and fun 6:30 p.m. at Patriot Lake.
July 5
Tiptonville, Tenn. – Feel the Rumble: Fireworks Festival – Live band and karaoke, flea market, vendors, food and fireworks at Reelfoot Lake.
To find your next vacation sweet spot explore tnvacation.com and join other Tennessee travelers following us on Facebook, Twitter, Pinterest, Instagram and YouTube.
# # #