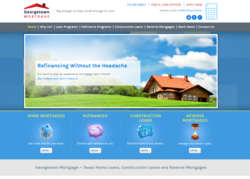 GEORGETOWN, TEXAS (PRWEB) December 03, 2012
Georgetown Mortgage Bank announces the addition of Texas HARP loans to its home loan offerings.
The HARP, or Home Affordable Refinance Program, loans are intended for homeowners who are underwater on their mortgages. The refinance program has been in existence since 2009 and allows homeowners to refinance if they meet certain conditions.
In order to be eligible for HARP, the loan must be owned or guaranteed by Freddie Mac or Fannie Mae, the loan-to-value ratio of the mortgage must be greater than 80 percent and the homeowner must be current on his or her mortgage with a good payment history over the past year.
"This program aims to help people who were responsible with their mortgage, but still ended up being victims of the housing bubble and subsequent economic downturn," said Kristi France, a loan originator at Georgetown Mortgage Bank. "With interest rates as low as they are right now, this is a good option for many people who are underwater on their mortgages and looking to refinance."
Georgetown Mortgage Bank provides each customer with a personalized loan originator to help borrowers navigate the mortgage and refinance process. The loan originators say they pride themselves on their "one loan does not fit all" philosophy, which enables them to help each borrower find the best loan choice for his or her unique situation.
About Georgetown Mortgage Bank
Georgetown Mortgage Bank is a full-service mortgage bank in Georgetown, Texas. The bank provides home mortgages, refinances, construction loans and reverse mortgages to people across the state of Texas. Georgetown Mortgage Bank aims to find the best mortgage solutions for its clients through the guidance of a personal loan consultant who works with the customer from beginning to end of the mortgage process. Although Georgetown Mortgage Bank offers big bank products and services, its consultants pride themselves on offering the friendly service of a local bank.