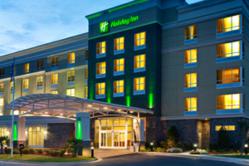 ...our users are consistently calling in to tell us about properties going into contract and impending sales.
Burlingame, California (PRWEB) December 21, 2012
December is historically a quiet month for The Hotel Inventory. Even though consumers are traveling and staying in countless hotel rooms for Christmas and New Years, many hotel brokers consider the last quarter as the slowest of the year. Investors might be looking for hotels for sale, but transactions are minimal.
This year has been a little different. Even with the economy at its current state and the looming threat of a fiscal cliff, The Hotel Inventory has been able to officially record three hotels that have sold in Texas alone. Two of the hotels are Hampton Inn and Suites located in the cities of Center and, more recently, in Rosenberg.
The two hotels were represented by Subhash Naik of Hotel Brokers, Inc. and the other by R.S. Patel of Colliers Hotels International, respectively. Both brokers have a combined eight more hotels for sale on The Hotel Inventory. Earlier this quarter, Mr. Naik also reported the sale of the Holiday Inn Express in Austin, Texas. All of his properties were Featured on The Hotel Inventory's website. Mr. Patel's property was not marketed on the site.
"It's quite astonishing, to be honest with you," Robert Prince, founder of The Hotel Inventory says. "This time last year, we had zero announcements for closings. Now our users are consistently calling in to tell us about properties going into contract and impending closings."
Earlier this week the Holiday Inn in Southaven, Mississippi closed. The hotel is ranked as a top 2% Holiday Inn in the country. The property was posted to The Hotel Inventory in 2011 and it has recorded one of the highest property views on the site to date. Dinesh "Dan" Rama, of newGen Commercial in Arizona, represented the sale. According to Mr. Rama, his firm has closed $60 million in hotel assets this year. He is also on the verge of announcing yet another closing in the coming weeks along with a handful of properties in contract.
"This is a great way for us to end the year," Robert Prince said. "Our unique views are up 40%, the number of hotels posted to the site tripled and advertisements on the site are nearing 700,000 views, which is 7 times what we recorded in 2011. Needless to say, we're growing, and growing fast. Not only that, but the number of closed deals is also a good sign for our economy."
According to Robert Prince, The Hotel Inventory has been offered to buyout a few of their competitors and have also entertained talks about selling their own company to established hospitality businesses. He has no intention of selling the company any time soon as their business plan has not fully matured, "There is so much more we can do in the coming years. We intend to see our plans through and become a global leader in our industry."
The Hotel Inventory is a commercial real estate marketing firm specializing exclusively in the hospitality industry. Founded in 2009 by Robert Prince, The Hotel Inventory has quickly become an irreplaceable, full-service, marketing tool for hotel professionals across the nation. With nearly 700 properties posted for sale and strategic lead generation services, The Hotel Inventory has assisted in tens of millions of dollars in hospitality transactions to date.