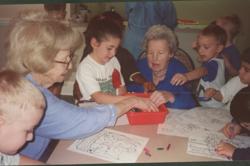 "In my line of work, I have found that caregivers are often stressed from the daily burdens of care and may have difficulties finding quality information. I believe The Alzheimer's Caregiver is designed to meet the needs of the daily caregiver and empower
San Antonio, TX (PRWEB) June 28, 2012
The nearly 11 million Americans caring for persons with Alzheimer's now have access to research based information and resources, thanks to the launch of The Alzheimer's Caregiver™ a new online subscription service series. The Alzheimer's Caregiver™ translates the most current scientific and clinical Alzheimer "Care" research into a language and format that family and professional caregivers can put to use. Using internet based technologies, The Alzheimer's Caregiver™ is an educational program that is interactive and easy to understand, access, and navigate. A product of LightBridge Healthcare Research Inc., The Alzheimer's Caregiver™ is slated for release on June 19, 2012.
The Alzheimer's Caregiver™ translates the language used in academic research into an easily understood language without losing the original content and point of the research. This program consists of 32 training volumes that offer strategic tips that are derived from peer reviewed research-based information, personal interviews with caregivers and creative coping strategies.
The Alzheimer's Caregiver™ is created in both Spanish and English and includes other features such as user-friendly navigation, interactive learning methods, encyclopedia-like glossary, frequently asked questions, search capabilities and so much more. In developing these caregiver training programs, LightBridge collaborated with leading academic researchers, clinical practitioners and Universities worldwide.
"As a nurse practitioner, a researcher specializing in gerontology and a family caregiver, I have shared in the experience of caring for a loved one with Alzheimer's," said Dr. Karen Kauffman, board certified Gerontological Nurse Practitioner and an Associate Professor at the University of Maryland School of Nursing. "In my line of work, I have found that caregivers are often stressed from the daily burdens of care and may have difficulties finding quality information. I believe The Alzheimer's Caregiver™ is designed to meet the needs of the daily caregiver and empower family caregivers to keep their loved ones living at home much longer than would normally be possible."
The Alzheimer's Caregiver™ is dedicated to promoting, enhancing and providing a meaningful quality of life for persons with Alzheimer's and other related dementias. It is funded through numerous competitive grants from the National Institute of Health in Washington DC. , a part of the U.S. Department of Health and Human Services and is the primary Federal agency for conducting and supporting medical and nursing research. The Alzheimer's Caregiver™ is available for purchase on its website at http://thealzheimerscaregiver.com and is highly affordable.