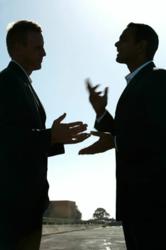 Anticipate the conflicts before they arise and clarity each of your agreements while you trust each other
Anchorage, Alaska (PRWEB) October 04, 2012
Dr. Lynne Curry, Ph.D., SPHR (CEO of The Growth Company) has held numerous mediations between business partners over the last 30 years. "By the time they reach me or an attorney, it's often too late" says Dr. Curry. Today Dr. Curry reaches out to future business partners, attempting to prevent future chaos.
Dr. Curry says that it typically starts out like this…the two partners start out as friends, one saying to the other, "With your marketing and financial expertise and my ability to craft products, we could both make a lot of money."
"You're right!" says the other. "I can market what you produce and handle the business finances, freeing your time for doing what you do best. Let's go for it!"
Excited, they form a partnership, planning to work together and retire comfortably rich in a dozen years. Because they trust each other, feel they'll each work hard, and believe their talents complement each other, they split ownership of their business 50/50. They vow they'll make all major decisions by mutual consent.
Two years later, they despise each other. The trouble starts when partner one starts to feel he's "carrying" partner two. He complains, "I work longer hours, it's not fair to split the profits 50/50."
Now, the partnership "made in heaven" officially descends to hell. The partners show up at my doorstep for mediation. Both have attorneys. Each plans to sue the other if mediation fails. While they fight, their business disintegrates.
Dr. Curry advises if a person contemplates forming a partnership and wants it to last, prevent the fate that awaits eight out of ten partnerships. "Anticipate the conflicts before they arise and clarity each of your agreements while you trust each other." She goes on to say that partners will want to decide, in advance how they'll handle the financial and legal issues should one partner chose to leave the business, die, or become incapacitated. They'll benefit if they decide ahead of time on the duties and division of profits for each partner; how they'll handle personnel and financial management, marketing and operational areas, and what is expected of the other in terms of a "normal" work week, vacations and time off.
Dr. Curry explains sometimes, one or both partners balk at discussing these topics. They feel they can "work things out" should problems arise. Just as many newly engaged couples shun separate bank accounts or prenuptial agreements "because that implies we're not committed," some feel writing a future buy-sell agreement unnecessarily sows seeds of discord.
Dr. Curry stresses that effective partnerships begin when prospective partners anticipate and address how they'll handle the bad as well as the good. Partners who can't agree on how they'll handle conflicts before disagreements arise generally can't deal with unexpected and nasty surprises that make them feel like going for each other's throats.
Further, partnering without planning exposes both parties to major risk. For example, if partners sign a five year lease for expensive office space, what happens if the other partner skips town? Are partners aware that without a specific agreement, they may wind up in business with their partner's spouse if their partner dies?
Or, possibly worse, what happens if relations sour yet the partner refuses to leave? Consider the case of Londin v. Carro Spanbock, in which one partner broke off from the firm. Although this partner left the partnership, he continued to use the same office space as he'd used as a partner. This partner was a "tenant in partnership" and could remain in the office as long as he contributed his share of actual costs.
Contemplating a partnership? According to Dr. Curry if someone wants to avoid regrets and like their new partner three years down the road, start by discussing how they each want the partnership to work – so they won't feel surprised or disappointed later.