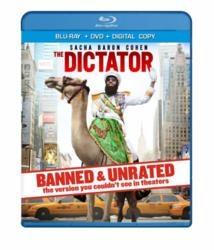 Detroit, Michigan (PRWEB) May 03, 2013
The popular comedy movie, "The Dictator" starring Sacha Baron Cohen, is now available for shipping at SportsFanPlayground.com.
The movie features Cohen as an over-the-top General from an North African country who tries to live life in the United States and live the American Dream - his worst nightmare. Cohen's past movies include "Borat," "Bruno," and his role on HBO's "Da Ali G" show.
SportsFanPlayground.com currently has a 2-disc DVD/Blu-ray combo available for $21.99. The set also comes with a special digital version for use on iPods, tablets and other devices.
For more information, visit SportsFanPlayground.com.
About SportsFanPlayground.com -
The Sports Fan Playground is a leading online e-commerce provider of sporting good from the NFL, NHL, MLB, NCAA, NBA, UFC and WWE. The store also has an extensive variety of electronics which range from tablets, PCs and cameras to video games, DVDs, Blu-Ray Discs, appliances, lawn and garden products and more.
The store also carries the top brands in electronics and apparel including, Nike, Adidas, Apple, Sony, Samsung, Microsoft, EA Sports, and many more. The company recently began its initial expansion into clothing and jewelry and will continue to expand over the next several months.
Recently, SportsFanPlayground.com became an Alexa top 30,000 website, showing the strong popularity of the website.