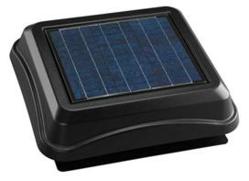 30% Federal Tax Credit on both the purchase price and installation costs of your Solar Powered Attic Ventilator
Issaquah, WA (PRWEB) February 11, 2013
Online retailer TheHardwareCity.com is now offering Broan's recently redesigned solar powered attic ventilators. The improved unit enhances performance, simplifies installation and lowers overall cost. Those who purchase a new SPAV even qualify for an IRS Residential Energy Efficient Property Credit at the very least.
According to Asha Rani, owner of TheHardwareCity.com, homeowners may be able to claim a 30 percent Federal Tax Credit on both the purchase price and the installation costs of the Broan SPAV because it meets the definition of a Qualified Solar Electric Property. Purchases may qualify if they are an expenditure for the property that uses solar energy to generate electricity for use in the homeowner's (taxpayer's) residence. That is an additional break added to the savings of up to $180 per year that someone might otherwise be paying to operate an electric powered attic ventilator.
"The new SPAV costs half as much as Broan's previous model and out does the previous models' cubic feet per minute performance by 38 percent," Rani said. "The solar panel on the new model has been increased to 28 Watts for more power. The larger dome provides improved airflow, and the fan blade pitch has been increased to optimize airflow."
Additionally, Rani says, the new SPAV has a smaller square roof footprint that decreases the amount of shingles that need to be cut for installation, and dome locator tabs simplify installation by providing stops to positively locate and seat the dome during installation.
One Broan SPAV ventilates a 3,222 cubic foot attic, generating 537 CFM. The CFM total is the highest among SPAVs costing less than $500. It was also ranked as the most attractive solar ventilator in a survey of homeowners when they were asked if all ventilators had a similar price, performance and their color could be matched to the color of the homeowners' roofs. In fact, the Broan SPAV was chosen by a more than two-to-one margin.
The numbers are important from the standpoint that the U.S. roofing market will grow 5.7 percent annually through 2015, according to a Nov. 2011 report by the Freedonia Group. Reports that same year indicate that seven percent of homeowners have purchased a roof ventilation fan since moving into their home (Decision Analyst Inc.) and that as of 2011, roof ventilation fans have a 13 percent U.S. penetration rate (Decision Analyst Inc.)
"The greatest benefit a SPAV can offer homeowners is temperature regulation all year round," Rani said. "Broan's SPAVs have stainless steel fasteners and galvanized steel brackets for durability, corrosion resistance and longer life."
For more information about this or any of TheHardwareCity.com's products, visit http://www.TheHardwareCity.com.
TheHardwareCity.com, one of the largest sellers of hardware products online, has combined the old school philosophy of cutting cost with the latest in technology whenever possible since 2007. As an online-based retailer, TheHardwareCity.com offers products available to customers that other larger and smaller brick-and-mortar stores don't often carry. Additionally, TheHardwareCity.com offers live assistance online, Monday through Saturday, to ensure its customers get exactly what they need.