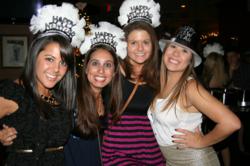 St. Louis, MO (PRWEB) December 05, 2012
New Years Eve is a night when people get decked out and celebrate with family and friends. This year, Tigín invites everyone to spend New Years Eve with Tigín Irish Pub & Restaurant.
To make this New Year's Eve special, Tigín Irish Pub & Restaurant has placed more emphasis on its traditional Irish menu with all of the uniquely Irish recipes made from scratch. Try out all of the wholesome Irish meals Tigín has to offer. Also, be sure to enjoy an ice cold beer from the wide selection of beers available, all poured from the state-of-the-art draught system that sets Tigín apart from any other bar or pub.
With festivities going on all day and night, Tigín Irish Pub and Restaurant is the place to be for New Year's Eve. The first toast is at 6pm for the Irish New Year. Then activities include a complimentary champagne toast at midnight and party favors. There is absolutely no cover charge making this New Year's Eve very affordable. There
Tigín Irish Pub & Restaurant (pronounced "ti-geen") is distinguished by its genuine Irish hospitality, quality and craic (pronounced "crack", a uniquely Irish form of fun). Don't miss out on this New Year's Eve event, come down to Tigín Irish Pub for ol, ceol agus craic galore!
About Tigín Irish Pub:
Tigín Irish Pub is located at 333 Washington Avenue. Tigín is an Irish word meaning small cottage. Inspired by the environment of the Irish cottage and its essential hearth, Tigín has created something very special – a place for the traveler to find comfort, encompassing both modern amenities and traditional values
Follow us at @tiginstlouis
Or join us on Facebook