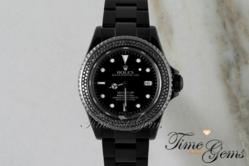 Time and Gems offers one of a kind Black Rolex Watches that can be customized for each clients. 1-888-658-5595
Los Angeles, California (PRWEB) April 04, 2013
Today, Time and Gems has announced the continuation of its daily deals on men and women Rolex watches indefinitely. The decision to keep prices low even after the economic recovery is a commitment to its clientele according to a Time and Gems spokesperson.
Most new and certified pre-owned watches can be purchased at a decent price at any of the Time and Gems stores according to the spokesperson. When asked how the company was able to survive with such low prices, the executive explained how wide its network of supplier was. Each member of the network of supplier is reputable with an authentic list of merchandise, with Rolex Submariner on top of their best seller list.
Buying a watch at such prices from Time and Gems comes with several perks to. All pre-owned watches are certified and have been inspected before being put on sale. In addition, the company does offer a risk free 3-day return on almost all items. The 2-year warranty is one more incentive to purchase a luxury watch for him or her from Time and Gems.
The low prices at Time and Gems seem to be here to stay for a longer than expected period. "We anticipated a successful reception of the daily deal campaign; but nothing like what we saw. Our clientele has increased in part because of the deals, specially on our large selection of Rolex watches." stated the executive.
Statistics have shown that buying a luxury watch is a good investment. These watches are more durable and generally outlive their owners; they can be passed from generation to generation. The daily deals at Time and Gems is a good occasion to make a durable investment.
With a dedicated repair department, Time and Gems guarantees that your investment will be protected along the way. In addition, Time and Gems provides lots of tips to its clients on how to protect and maintain the appearance of luxury watches and Rolex Daytona as if they were new. The authentication and appraisal of watches at the company is performed by the independent Horological Appraisal Group and accompanied by an estimated retail replacement value.
Time and Gems is one of the rarest luxury watch store with a full line of certified pre-owned watches. The company offers daily discounts on both pre-owned and new watches. The pre-owned watches are fully restored before being put on sale. Time and Gems has been selling luxury watches, specifically Rolex watches, over the past 30 years and retailing to customers worldwide online for the past 9 years. Their collection of luxury watches including Rolex Datejust and Rolex Presidents is in the hundreds, making them the largest online retailer of Rolex watches in the USA.
For more information about certified pre-owned luxury watches or to find out about Time and Gems prices and their Black Rolex Submariner, call or visit them online:
1-888-658-5595
http://www.timeandgems.com