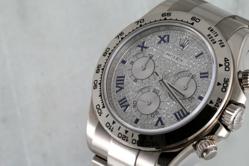 Los Angeles, California (PRWEB) April 28, 2013
Get ready for a never before experienced luxury event. Today, Time and Gems reveals its latest range of Rolex watches at its annual Spring Wholesale Event.
A Rolex not only offers you the gratification of owning one of the most sought after timepieces in the world, it also affords you a permanent place in the most exclusive club around; one that only a Rolex owner will know anything about.
With ethereal qualities of charm, elegance and noblesse, the Rolex is indeed a rare and distinct gem in a sea of mediocre baubles. Hence, to own a Rolex, it means owning a piece of history, very much like owning an artifact of great style and substance.
Time and Gems (http://www.timeandgems.com) is known as one of the most reputable online retailers of Rolex watches and other luxury timepieces in the world. For over 30 years, Time and Gems has served the affluent, the cultured and the modish. Not only do its clients take away timeless masterpieces, Time and Gems also ensures that should any problems arise, a comprehensive two-year warranty and authenticity and appraisal certificate will help ease any discernments over its genuineness.
As buyers scour high and low for the most lucrative deals, here are some tips they need to keep in mind when purchasing a Rolex watch for the first, second, or third time.
1. Deciding Which Model to Buy
The buyer needs to do an appropriate amount of research before committing himself or herself to a specific Rolex watch. What many buyers do not understand is that when buying a Rolex watch, it is not just the looks that count. Basic research will show the buyer that Rolex watches are made to suit each individual's distinct lifestyle practices. For example, an avid yacht racer or polo player will greatly benefit from a Rolex Submariner or a Rolex Daytona. On the other hand, a professor of literature or legislator would very well stand out with a Rolex watch from the Rolex Presidential or Rolex Datejust range. Be it for men or women, the extensive range of Rolex watches available at Time and Gems is only the tip of the iceberg that one can possibly imagine with choosing a Rolex.
2. Deciding Whom to Buy From
What many buyers fail to realize is that there are many uncouth retailers on the market waiting to take advantage of first-time buyers. When a buyer has limited experience in selecting a luxury watch, particularly a Rolex, it gives the aforementioned retailers an opening to sell them less marketable watches. The buyer must ensure that every internal and external part of the used Rolex is authentic. This is to ensure that no problems will crop up in the future, as is often the case with forged luxury watches. The buyer also needs to ensure that the Rolex purchased is from a reputable retailer with genuine reviews and credibility. Known to be in a class of its own, Time and Gems is renowned for offering quality timepieces to the benefit and pleasure of its vast clientele.
3. Deciding How Much to Spend
Buyers are advised to review their budget before purchasing a Rolex watch. Just as buying a diamond ring, a car or a house requires careful thought and consideration; the same can be said when buying a Rolex watch. At Time and Gems, even if the buyer changes his or her mind, a no-risk three-day policy is always in place no matter how large or small the purchase. In addition to that, buyers need not worry about buyers' remorse because Time and Gems offers a no strings attached 10-day exchange policy. This is especially useful when the buyer purchases a Rolex watch as a gift for someone special and wants the flexibility of exchanging it.
Do not miss out on this annual Spring Wholesale Event. Interested buyers can get in touch with one of Time and Gems' timepiece professionals about all the wide range of Rolex watches available.
For example, one of the many Rolex watches on sale is the Men's Rolex Stainless Steel Silver Arabic Dial Smooth Bezel Oyster Band Datejust (Item #461).
The Original Used Rolex Datejust Price: $3,398 Time and Gems's Spring Sale Price : $3,000 (Bank Wire Price: $2,850) This leaves the buyer a total savings of $548
For more information on other Rolex watches and luxury watches, contact Time and Gems's professional retailers through their website at http://www.timeandgems.com or call 1-888-658-5595.