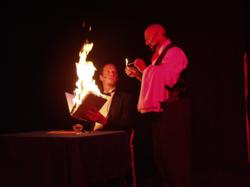 It's an honor to come back to our families roots
Seattle, Washington (PRWEB) April 10, 2013
Twisted Cabaret signs Paul Nathan to the role of Flynch for Seattle show. The question of who would play the loveable hunchback in the May show has been an issue for fans since the Tickets to the Seattle show went on sale last week. The news was met with excitement by fans both of Nathan and of Twisted Cabaret. @CabaretTweets tweeted mention of a band so it looks like live music is also in the works for the Seattle show. There had been some speculation about this as the band leader, Nolan Gasser would most likely be too busy with his Pandora Genome Project to commit to an extended run. This will be the first time that the full cast of Olivier, Nathan, and the Twisted Cabaret Orchestra will be on stage together in almost ten years.
Twisted Cabaret is one of the best examples of theater, cabaret, magic, music, and all around entertainment to hit Seattle since Teatro ZinZanni opened. The Seattle show has often been called a "discount Teatro ZinZanni". A simple plot takes us on a whirlwind peek behind the curtain of "the Greatest Variety Show in the world". As we find out that none of that actual performers in the show will be able to make it and the star, Frank Olivier has to do all of the acts himself.
"I wouldn't miss this for the world" say's Nathan, "My grandmother comes from Seattle so it's an honor to come back to our families roots." Nathan has been touring Europe and the Middle East for the past fourteen months and it was unclear if he would be in the available to reprise the role he created nearly eight years ago. Gasser is the genius behind Pandora and has been focused on that project for a number of years now. Twisted Cabaret has been on hiatus for the past two years in large part because the main actors in the show have been pursuing other projects. In Nathan's case those projects include the world's first under water magic show and a sky diving magic show as well as his award winning I Hate Children Children's Show which was one of the top two shows at the Edinburgh Festival Fringe this year.
Other actors have played Flynch, most notably Eric Masters and Scott Nery. Masters is currently on tour in Burlesque houses in Greece, and Nery has a feature role in Scary Movie 5.
Twisted Cabaret opens at Hale's Palladium in Seattle May 2-26. Tickets are available on the website.