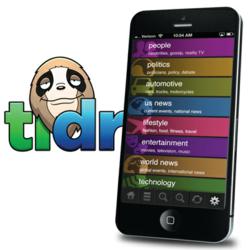 TLDR isn't just creating keyword dense groups of sentences like those generated by SRI. Our summaries are condensed versions of the original.
Scottsdale, AZ (PRWEB) April 24, 2013
Stremor Corp announced today the updated release of the TLDR Reader, now optimized for tablets, is available in the iTunes App Store, Google Play, and the Windows Phone Store. The TLDR Reader delivers concise information on-the-go to mobile users. It shortens any news article on the web to a mobile-optimized 60 words, while retaining the most essential information. Utilizing Stremor's language heuristic engine, Liquid Helium, the generated summaries are able to maintain the intent and writing style of the author.
Creating great summaries requires a rich knowledge of grammar and writing styles. Liquid Helium, which powers TLDR Reader, is the only software with the capability to not only parse sentences, but to determine their importance in the context of the article being summarized. "TLDR isn't just creating keyword dense groups of sentences like those generated by SRI. Our summaries are condensed versions of the original," explained Stremor's CTO, Brandon Wirtz. "It was important that the end product felt like the original, only shorter."
According to TechCrunch, and dozens of other technology news sources, competitors to TLDR Reader, UK based Summly and Seattle based Wavii, were recently acquired by Yahoo and Google respectively. Summly leveraged technology from SRI International, the creators of Apple's Siri, to generate summaries. These two acquisitions by top Internet companies demonstrates a growing demand for mobile optimized content. Automated language processing is a new field with few players and lots of opportunity.
Stremor's proprietary language heuristics engine, Liquid Helium, is the foundation of multiple products and services, not just summarization. Liquid Helium powers search, advanced content creation tools, language analytics, and personalized news services. Leveraging a collection of over one million rules, heuristic algorithms, and hundreds of linguistic libraries, Liquid Helium processes content, writing style, subject matter, context, and intent. Its ability to parse HTML allows TLDR Reader to preserve the structure of the original document. Liquid Helium works to maintain the intent of the author and makes certain that if information from the preceding sentence is required, that sentence is also included. The result is summaries which read very naturally and give a good representation of the full content.
"Request for TLDR on more devices has been a top request since launch," says Bill Irvine, Stremor CEO, "Making the technology available to as wide of an audience as possible was a goal from the beginning." TLDR Reader on tablets shows news categories, headlines, summaries, and related stories in columns, making it fast and easy to switch categories and stories with a minimum of taps and swipes.
TLDR Reader is now available for download by visiting the Windows Phone Store, the iTunes App Store, or Google Play. Visit TLDRstuff.com for the link to the apps as well as the TLDR Plugin for most browsers.
Stremor Corp is an Internet technology startup, focused on building language analysis solutions that closes the gap between raw information and actionable knowledge. Stremor utilizes a powerful language heuristics engine, Liquid Helium, to build innovative consumer applications that showcase their core technology's ability to comprehend language in a way that delivers a rapid path to relevant knowledge. For more information, contact Stremor Corp via their website, http://www.stremor.com.