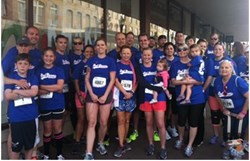 Every penny counts for cancer research and we are happy to contribute to such a wonderful cause
Savannah, GA (PRWEB) April 18, 2013
Employees of TMX Finance, one of the nation's largest and fastest growing consumer finance companies, showed their support for breast cancer awareness this past Saturday, April 13th at the annual Susan G. Komen – Race for the Cure 5K. The event was held in beautiful downtown Savannah, GA beginning at the corner of Broughton and Barnard Streets. TMX team, 2nd Basers, had nearly 45 participants including employees and their family members. The team was excited to raise money for the cause and the corporate office has matched the donation.
"Breast cancer is a disease that affects thousands of people each year", said Lisa Brengman, Corporate Accounting Supervisor for TMX Finance and team organizer. "Every penny counts for cancer research and we are happy to contribute to such a wonderful cause."
TMX Finance employees are already excited about raising money for next year's Race for the Cure to help those that have been affected by breast cancer.
About TMX Finance
TMX Finance is one of the largest and fastest growing consumer finance companies in the United States. Our family of brands includes TitleMax, TitleBucks, EquityAuto Loan, Auto Cash, TMX Credit and InstaLoan. There are over 1,000 stores in twelve states and the company continues to grow. In fact, TMX Finance has doubled in size over the past 5 years and plans to maintain that rate of growth for the next several years.