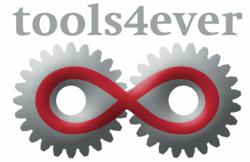 Lynbrook, NY (PRWEB) October 09, 2012
Tools4ever, the market leader in solutions for Identity & Access Management (IdM), has developed a connector for Cisco Unified Communications Manager (UCM, formerly known as CallManager), for processing (VOIP) telephone traffic. It enables the management of users, telephone handsets and hunt groups within Cisco to be organized automatically based on information from the HR system. For example, when a new employee commences service, an individual card is created automatically in UCM by Tools4ever's UMRA application, and a telephone number is assigned. Users or user groups are also modified or deleted automatically when the details change in the HR system.
Thanks to the link, UMRA is also able to delegate this type of task to the helpdesk, using a form. In the form the helpdesk may choose from a selection box with existing numbers and groups. When entering the user in Cisco UCM, UMRA can check whether the user already exists to avoid duplication. It's also possible to indicate that administrators may only manage handsets/users from their own region.
In many organizations, managing telephone handsets, users and hunt groups (a group of employees accessible under one and the same group number) is the responsibility of one department or individual. This department or individual is often not notified, or is notified too late, about staff changes (employees entering and leaving service). This means a telephone is not linked quickly to a new employee, or an employee is not removed from the call manager. Thanks to the UMRA connector with Cisco UCM, this problem is avoided.
UMRA is deployed by many organizations for the day-to-day management of user accounts in the Active Directory. As part of the influx, progression and exit processes of employees, UMRA serves as a graphic shell around the network with which, for instance, a service desk can use electronic forms to carry out these user account management tasks safely and by delegation. Alongside the basic management of user accounts in the Active Directory, UMRA is also able to use (standard) connectors to carry out management of users within other systems, such as general and technical systems.
For a complete overview of the connectors UMRA offers, see: http://www.tools4ever.com/software/user-management-resource-administrator/connectors/
About Tools4ever
Tools4ever is distinguished by a no-nonsense approach and a low Total Cost of Ownership. In contrast to comparable Identity Management solutions, Tools4ever delivers complete solutions in a few days rather than weeks or months. Partly thanks to this approach, Tools4ever is the absolute Identity Management market leader in the Netherlands with more than 1.6 million managed user accounts. Tools4ever delivers various software products and integrated consultancy services for Identity Management, such as User Provisioning, RBAC, Password Management, SSO and Access Management. For more information: http://www.tools4ever.com