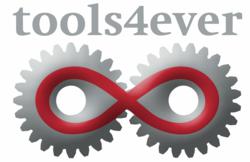 Lynbrook, NY (PRWEB) April 09, 2013
Tools4ever, the market leader in Identity & Access Management (IdM/IAM) solutions, now offers employees the ability to manage their personal Outlook data using a dashboard. Previously, if users wanted to update their personal data published by Outlook, they had to notify the IT department of the changes. In order for IT departments to work more efficiently and to allow end-users control their personal details in applications such as Outlook and a corporate intranet, Tools4ever introduces a self-service dashboard to allow end-users the ability to make changes to their personal data independently. This relieves the IT department of this administrative burden and makes it easy to clean-up Outlook data.
Tools4ever's User Management Resource Administrator (UMRA) suite retrieves information from the HR system and automatically populates the dashboard with the employee´s basic details. The dashboard then draws a distinction between data that cannot be changed by employees, such as HR details, that need to be modified by the HR department, and ancillary data such as the employee's room number, internal address, location, building section, pager, phone and fax that can be modified directly by the employee. Where data may involve a high error margin, e.g. room number and location, employees can make a selection from a drop down list rather than free-form text.
After changes have been made by the end user, UMRA propagates the modified data directly to the systems where the change must be implemented; Active Directory and Exchange being the primary targets. Tools4ever supplies this solution as an out of the box solution default suite, with the option of adding customized intelligence.
Dean Wiech, Manager Director of Tools4ever Inc: "Our aim is to relieve organizations of the high IT management burden by allowing them operate more efficiently. Our UMRA Identity & Access Management solution gives managers and employees a self-service portal with which they can request, check and approve certain functions such as a group membership or access rights to an application independently, implementing the resulting changes across the network. Alongside a self-service approach to user account management, we identified the organizational need to handle various other processes in the same way — modification of Outlook data being one of them."
---------------------------------------------------------------------------------------------
About Tools4ever
Tools4ever distinguishes itself with a no-nonsense approach and a low Total Cost of Ownership. In contrast to comparable Identity & Access Management solutions, Tools4ever implements a complete solution in several weeks rather than months or years. Because of this approach, Tools4ever is the undisputed Identity & Access Management market leader, with more than one million user accounts managed on a daily basis.
Tools4ever supplies a variety of software products and integrated consultancy services involving Identity Management, such as User Provisioning, RBAC, Password Management, SSO and Access Management. For more information, please visit http://tools4ever.com
For additional information please contact:
Tools4ever New York
Dean Wiech
Phone: 1-866-482-4414
d.wiech(at)tools4ever(dot)com
Tools4ever Seattle
Tom Mowatt
Phone: 1-888-770-4242
t.mowatt(at)tools4ever(dot)com