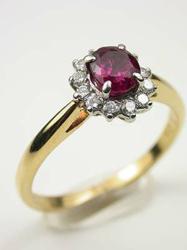 The Princie diamond lot details described the vintage ruby and diamond ring I'd just added to the Topazery site almost to a T.
Atlanta, GA (PRWEB) May 14, 2013
The Princie diamond recently went for the princely record-setting sum of $39.3 million. When Topazery Jewelry's founder, Jan Walden, read about the Christie auction announcing this feat, she noted that the lot containing the diamond also included several other spectacular pieces. Chiefly catching her eye was a ruby-centered ring that just so happens to be very similar to one she had just added to the company's inventory. In honor of that ring helping bring the Princie diamond lot's total sale to $81.35 million, Topazery Jewelry is now showcasing its own vintage ruby and diamond ring.
According to Jewelry News Network, the Princie diamond is a "34.65-carat fancy intense pink cushion-cut diamond." Its recent sales price of $39.3 million at Christie's New York Spring Magnificent Jewels auction "represents a new record for any jewel sold at Christie's, surpassing the previous house record of $24.3 million" by more than $10 million.
Joining the Princie diamond in the sale were over 290 other jewels. Together, they resulted in a combined total of more than $81.35 million when all was said and done. That figure marked "the highest various owner jewelry sale total in the United States," the auction house reported. And one of the items behind that record-breaking sale was "a ring centered with an 11.08-carat, oval-cut ruby surrounded by two rows of circular cut diamonds" that sold for more than $1.7 million.
"When I saw mention of that ruby ring, I was thrilled," says Walden. "Gemstone size aside, it described the vintage ruby ring I had just added to the Topazery site almost to a T. It is centered with a ruby that is surrounded by a row of circular diamonds. The only major difference is ours is set in 18k yellow gold rather than platinum."
The ring of which Walden speaks is a vintage ruby and diamond ring designed by Tiffany & Co. It features a 0.67-carat oval ruby surrounded by a halo of twelve diamonds. As a result of discovering just how closely it resembles the Princie diamond companion, she has given the newly added ring a showcase spot on the Topazery website. Visitors to the online antique jewelry boutique will find the ring prominently featured throughout the month of May.
For more information on how to add a record-breaking-worthy diamond and/or ruby piece to a jewelry wardrobe, contact Jan Walden at (678) 528-8901. To browse Topazery Jewelry's full collection of vintage and antique jewelry, visit the company online at http://www.topazery.com/.