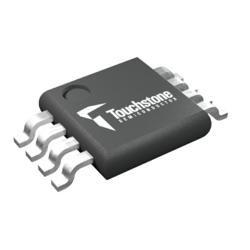 Touchstone today announced the TSA7887 two-channel, 12-bit, 125-ksps ADC that is designed as a drop-in replacement for the Analog Devices AD7887.
MILPITAS, Calif. (PRWEB) December 05, 2012
Touchstone Semiconductor, a developer of high-performance, low power analog integrated circuit solutions, today announced the immediate availability of the TSA7887, its first Analog Devices alternate source IC. The new TSA7887 is a two-channel, 12-bit, 125-ksps analog-to-digital converter (ADC) that can be used as a drop-in replacement for the Analog Devices AD7887.
Priced at $1.25 in 1,000-piece quantities, the new Touchstone TSA7887 is $3 less expensive, pin-compatible, specification-identical, and functionally identical to the Analog Devices' AD7887. Touchstone now offers a total of 17 parts from Maxim and Analog Devices in its alternate-source analog IC family.
Touchstone's alternate-source parts are drop-in replacements that can be used in conjunction with the original manufacturer's ICs. Replacement parts ensure electronics companies have access to a constant supply of parts to build their products. All Touchstone alternate-source analog ICs are in stock and available to ship immediately.
The new TSA7887's features include:

A $1.25 price at 1k-piece quantities -- $3 lower than the AD7887.
2.6-mW power consumption at 125ksps while operating from a single +2.7V to +5.25V.
Four user-programmable, low-power operating modes including auto standby and auto power down.
Two INL options: TSA7887B with ±1LSB INL and TSA7887A with ±2LSB INL.
-40°C to +125°C operating temperature.
One or two analog inputs each with an input range from 0V to VREF or 0V to VDD.
An integrated 2.5V reference.
The TSA7887 is an ideal choice as an easy-to-use, stand-alone 12-bit ADC in low-power, industrial, process control, and data-acquisition applications. Some portable and fixed-form-factor applications for the TSA7887 include: optical sensors, touch panels, personal digital assistants, programmable logic controllers, and medical instrumentation.
The TSA7887 is available in 8-pin SOIC and MSOP packages. It is in stock and ready to ship from Touchstone's distributors: Digi-Key and Future Electronics. Touchstone offers free samples/and completely assembled/tested demo boards upon request by visiting: http://touchstonesemi.com/products/maxim-second-sources.
About Touchstone
Touchstone Semiconductor, Inc., creates high-performance analog integrated circuit solutions that solve critical problems for electronics companies. Touchstone's second-source products are pin-compatible, specification identical solutions, offering customers a long-awaited alternative source for hard to get sole-sourced products. Touchstone's proprietary products provide unique combinations of features and performance that cannot be found from any other supplier. Founded in 2010, Touchstone is headquartered in Milpitas, Calif. Its investors include Opus Capital and Khosla Ventures. Follow the company at: Twitter:@touchstonesemi, Facebook: Touchstone Semiconductor and YouTube: The Touchstone Semiconductor Channel.