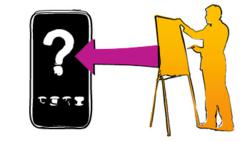 London, UK (PRWEB) February 11, 2013
BrightCarbon are taking their presentation services into the world of Learning and Development, with the arrival of their Better Training Presentations Seminar. The session will be held in London on 28 February. The one day seminar is designed to teach Learning and Development professionals how to create and develop compelling visual training materials; improve facilitator presenting; use animation to tell stories more effectively; understand the latest presentation technologies and determine the best training technology to use in various learning situations.
The seminar is sponsored by Brainshark, who provide cloud-based software for creating, sharing and tracking online and mobile video presentations. Their application could have many uses in the world of Learning and Development, such as compliance or induction training. Attendees at the seminar will have an opportunity to review the Brainshark solution and ask questions around all aspects of training material development and deployment.
BrightCarbon's Managing Consultant Joby Blume commented: "we've helped lots of sales and marketing teams with our fight on 'death by PowerPoint', now we have an opportunity to share our knowledge in the Learning and Development space – we are really excited to be able to improve delegate experiences."
Registration for the Better Training Presentations Seminar is free.
About BrightCarbon
BrightCarbon helps sales and marketing teams hit their numbers, by creating visual presentations and B2B sales tools. BrightCarbon also supports learning and development teams with effective training material and dynamic content.
BrightCarbon helps companies to tell their stories elegantly and visually. With BrightCarbon:

Sales representatives stop wasting time creating their own collateral, and become more productive
Training is more effective, and easier to deliver
Presentations become visual and more effective
BrightCarbon also offer advanced PowerPoint training and presentation skills training.
BrightCarbon has offices in the UK, Germany, and Singapore.