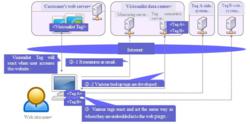 Developing new service to reduce the number of tag-setting and its workload
Tokyo, Japan (PRWEB) October 11, 2012
transcosmos inc. (Headquarters: Tokyo, Japan; President and COO: Masataka Okuda; TSE First Section: 9715; hereafter, transcosmos) has developed "Visionalist" recommendation advertisement tie-up service jointly with Digital Forest, Inc. (Headquarters: Tokyo, Japan; President: Tetsuji Hayakawa). The service will be provided starting on October 4.
In recent years, while the needs for advanced marketing solutions such as behavior targeting and retargeting advertising heighten, since many of them require tag setting at the time of implementation, the burden of website renewal costs and workload become the barrier for implementing such marketing solutions. Moreover, along with the advancement of the solutions, the data necessary for PDCA cycle requires not only the conversion numbers but also the data tied to the series of user behaviors leading to the conversion. transcosmos developed this new service to provide solutions to such challenges through comprehensive management system with "Visionalist."
transcosmos started sales of "Visionalist" as its sales agent in June 2002 and has experience implementing and operating at many of our corporate clients (over 100 corporations). The jointly-developed recommendation advertisement tie-up service is a result of our know-how gained from providing a series of services from Internet advertising to designing and operating websites and access analysis. This service reduces the number of tag-setting and its workload and at the same time makes it possible to manage tags comprehensively. Its main characteristics are as the following:
Characteristics of "Visionalist" Recommendation Advertising Tie-up Service
1.Comprehensive management of tags for sending advertisement, measuring, and website analysis tags
2.Reduction of costs for updating websites and labor pertaining to additions and deletions of the tags
3.Resolution of the barriers pertaining to introducing the new advertising material
4.More efficient PDCA cycle based on details user data
"Visionalist" recommendation advertisement tie-up service is for recommendation advertisement service "Deqwas. AD" (provided by Scigineer, Inc.) and "Omotenashi Banner" (provided by TAGGY, Inc.). If "Visionalist" has already been purchased, it is not necessary to insert new tags on the website, and these advertisements can be implemented. In the future, there will be other tie-up marketing solutions added as we will aim at further sales expansion of "Visionalist."
transcosmos provides an abundance of services to optimize our corporate clients' interactions with their customers -- such services are available either alone or in combination, depending on the clients' requests. We will continue to strive for providing services to contribute to our clients' sales increase.

transcosmos is a registered trade name or trademark of transcosmos inc. in Japan and other countries.
Other company names and product or service names mentioned are registered trade names or trademarks of various other companies.
About transcosmos inc.
transcosmos launched operations in 1966 as a pioneer in the information processing outsourcing business. Since then it has combined superior "human resources" with the most up-to-date "technological" capabilities to enhance the competitive strength of its corporate clients by providing them with high value added and superior services. It provides overall IT outsourcing services such as call center services, business process outsourcing services, business process solution services, and digital marketing services either as standalone solutions or as combined services to its corporate clients to optimize their marketing efficiencies, to expand sales and gain new customers. Further, these services have been expanded beyond Japan, globally, centered in Asia. transcosmos aims to be the "Global IT Partner" of its corporate clients to provide them with high quality outsourcing services on a global scale.