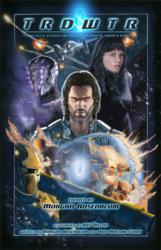 "I love the way the story builds on what is already happening in the world - it's a dark future, but it's possible," – Don Macnab-Stark, co-writer.
New York, NY (PRWEB) May 02, 2013
After pouring most of his life savings into his ambitious vision, the impulsive, passionate and eccentric Morgan Rosenblum recently re-launched the Treadwater Graphic Novel Vol.1 & Animated Film Kickstarter campaign. Reaching 50% funding in just two days, Rosenblum's goal of reaching $10,000 for book production is just around the corner.
Based on an original screenplay, the first volume of the "Dark Knight" meets "Mission Impossible" meets "Lost" graphic novel trilogy promises to immerse fans in multi-layered, intense storylines that leave even the most refined sci-fi junkies craving to know what's going to happen next.
"I wanted to create something that not only entertained people, but impacted them as well," said Creator, Morgan Rosenblum. "Whether you're Sci-Fi fan or not, if you have an imagination, you will truly appreciate this story."
Although he knows the TRDWTR trilogy in all its manifestations will be more than enough reward to lure supporters, the creator is granting immortalization for a limited number of people. For $5 he will stamp their name in the book in black; $20 gets it lettered in gold.
But here's the kicker: bigger contributions will get fans painted into the book as a background character, an Operative, or another featured role. Beyond the vanity perks, pledge rewards also include hi-res digital posters, signed copies of the graphic novel, and a copy of the original movie script—it's all tangible evidence with real value.
"I love the way the story builds on what is already happening in the world - it's a dark future, but it's possible," – Don Macnab-Stark, co-writer.
TRDWTR (Technological Research and Development Working Toward a Resolution) is the product of brilliant medical researcher Allen Downs. Created in response to the chaos that ravages the world after the Euro crashes, the organization is made up of hand-picked team members who each have bartered something uniquely important to them in exchange for working as a super operative.
Fans will be immediately sucked in, becoming one with the TRDWTR team as they clash with the Children of Chaos (an underground terrorist syndicate), deal with ensuing nuclear disasters, battle their own human flaws, and struggle to maintain hope for a resolution.
The well-developed characters—each with a strange and tragic backstory—are relatable and emotionally complex. Enthusiasts will immediately become attached to their dark dramas as they sink with them into the murky waters of realizing what's more important in the bigger picture of not just survival, but growth: one's needs or wants?
"TRDWTR is one of the most ambitious, epic, and exciting projects I've ever worked on. I'm so excited to be a part of it!" – Ray Dillon, Illustrator.
The Darkrose Studios owner sees the "babystep" goal of $10,000 as a done deal. His list of stretch goals includes turning the first 20+ pages into a Motion Comic (Animated Film) with voice actors, sound effects, and music. This Video Webisode will also serve as part of Rosenblum's pitch for turning Treadwater into a Video Game or Motion Picture. Additional Stretch Goals include the production of Operative Origin Webisodes. Fans will vote to decide which TRWTR Operative to feature.
Anyone can contribute to the TRDWTR 2.0 campaign, view awe-inspiring graphics, help Morgan on his way to realizing his ultimate vision—and pledge for a chance at eternal life. The link to the Kickstarter campaign starts here: Treadwater Kickstarter . It officially ends 9am on May 21st.
The Treadwater website includes in-depth details about the Operatives and their spec techs (special technologies), and the Children of Chaos. It also lets visitors take a tour of the TRDWTR top-secret facility in Greenland.
The brilliance of Kickstarter enables fans to join Rosenblum on his personal adventure—riding along for the victories as well as the bumps and difficulties. And although it all culminates in a final product, it's the journey and the experience of supporting ideas, people, and projects that proves the greatest gift.