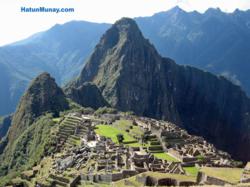 I would absolutely recommend this trip to others. This was a really great experience for me. I can warmly recommend this trip to everyone who wants to have experiences in the world of the South American Shamans.
San Diego, CA (PRWEB) October 04, 2011
Explore more of Peru than ever before with the Eagle-Condor Adventures expanded trip to Machu Picchu May 13 through May 20, 2012 and their new trip to view Andean condors up-close. Travelers who book now save on the company's already low prices.
In addition to its popular Machu Picchu trips, the company is adding new destination, Lake Titicaca and Colca Canyon, for 2012. Still, the company aims for small groups and highly personalized experiences.
"Watching Andean condors rise from Colca Canyon is a Peruvian experience that too many visitors miss," said Tajinder Hammer, who owns Eagle-Condor Adventures with her husband Mike. "While a trip from Cuzco to Machu Picchu is an amazing and awe-inspiring experience, missing Colca Canyon means missing some of Peru's most exotic and inspiring sites. Seeing the sights of Puno and the nearby canyon with a group of new friends is an amazing experience that's hard to describe."
The company's trips to Peru are now better than ever. In addition to the new destination, its trips from Cuzco to Machu Picchu are enhanced with new attractions and an even deeper examination of the nation's ancient mysticism, healing and medicine. The schedule also includes time for adjustment to the high altitude and for rest between adventures.
To make planning easier, a new Machu Picchu Travel Guide offers visitors to the company's website a chance to learn about travel destinations in Peru before booking a trip. Researching Machu Picchu trips has never been easier, thanks to the informative and interesting articles the company adds to the blog each week.
The company's trips to Machu Picchu are regularly priced at $1,524, but participants who register immediately are eligible for an early registration discount. See the Eagle-Condor Peru Adventures website or contact the company for complete details, including information about what the trip fee includes. Other Peru trips are priced separately.
About Eagle-Condor Peru Adventures
Eagle-Condor Peru Adventures offers Machu Picchu trips that have a positive impact on Peruvian culture and on the travelers who go to see this ancient and beautiful land. While Eagle-Condor trips visit essential tourist attractions, the company's tours delve deeply into Peru's ancient and unique culture and history. Owners Mike and Tajinder Hammer personally oversee each trip. Eagle-Condor Peru Adventures trips include the most careful examination of Peru's mystical spiritual and healing traditions available. http://www.BestMachuPicchuTrips.com
Media contacts:
Mike and Tajinder Hammer
info(at)bestmachupicchutrips(dot)com
8587937949
###