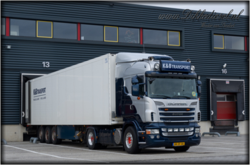 South Sioux City, NE (PRWEB) February 21, 2013
With a growing fleet of the latest model tractor and trailers, and an immediate need for quality drivers to operate them, K & B Transportation is the latest of companies updating their recruitment strategies by advertising one of the industry's most competitive job packages on one of its most reputable job sites. Currently posted on TruckingUnlimited.com, K&B has immediate positions for all types of drivers with available openings listed in almost every state, detailing many numerous benefits as well. Perhaps the most exclusive to K&B, is their guaranteed $950 weekly minimum pay, regardless of miles driven. If they don't provide the work, they will actually make up the difference and this type of pay guarantee isn't something that most other companies would even consider offering. K&B Transportation promotes their approach to earning their team's loyalty and understands that compensation is essential to keeping a fleet of satisfied drivers.
Other major benefits include medical, dental and life insurance coverage offered to all full time employees and their families. K&B Transportation also offers their drivers bonuses, lay over pay, breakdown pay and other extra earnings as well.
In addition to the latest model equipment any truck driver would choose to drive, K&B drivers also enjoy the option of choosing their fleet, with a Midwest Fleet for drivers wanting to stay in the Central United States, as well as a National Fleet for drivers wanting to run all 48 states. K&B Transportation also offers another one of the most important things to today's truck drivers; a steady pay check but with regular and longer periods of time at home. While the company's immediate driving positions has them prefer experienced drivers able to get right on the road, K&B Transportation also realizes they want to be among the toughest competitors with today's shortage of drivers and offers paid training to new drivers as well. The company's 3-month minimum driving experience requirement is among the lowest in the industry, as well as their minimum age requirement of 21.
Established in 1986 and with its headquarters in Nebraska, K & B Transportation has become a top temperature controlled transportation provider to some of America's leading food companies and is now operating in almost every states across the US.