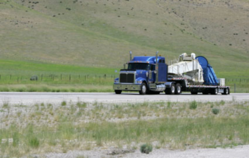 Riverside, MO (PRWEB) February 22, 2013
When it's already difficult for any transportation company to find any qualified truck drivers these days, a company of high standards and specialized service must go the extra mile to find the quality of drivers their business demands. Western Logistics Express is one such company, not only offering all types of high ranking specialty trailers to fit every need but equally qualifying drivers to ensure safe pick-ups and deliveries, on time. With terminals in Kansas, Texas and Georgia serving the entire United States, Canada and Mexico as well, WLX prides itself in their drivers and vehicles ranking well above federally safety standards for a carrier company of their size.
WLX already employs over 100 drivers, operating with more than 150 trucks and a variety of trailers that include; Flatbeds, Step/Drop Decks, Double Drops, Stretch Trailers, RGNs, Flip Axles and Multi-Axle. Proud of their claim ratio of less than .03% and EDI capabilities guaranteeing easy transaction from start to finish, WLX is currently seeking qualified flatbed company drivers and owner operators to complete their team. While the company has immediate positions to fill in every state, safety remains their chief priority and will only consider Cass A drivers fitting the following criteria; Minimum 23 years of age, 1 year OTR in past 3 years, no DWI/DUI in past 5 years, good driving record and must meet all DOT requirements as well.
Partnering with TruckingUnlimited.com is an example of how WLX will do what it takes to find the right drivers and their compensation package reflects the company's equal effort to retain them. In addition to offering quality home time, (the number one priority for the majority of truck drivers today), WLX also guarantees many benefits that include weekly pay by mileage, health insurance, paid vacations, 401(k), recruitment bonus program, passenger program and the safety and comfort of driving late model tractors.
Company drivers and Owner-Operators alike say that working for WLX is more like being part of an extended family. Janet Henderson has been a WLX company driver since 2006 and says they're very different from other companies she's driven for. "The company puts lots of time working with drivers and wants to make sure the drivers are taken care of," Henderson says. The biggest benefit since becoming a WLX driver? Janet says that's an easy one: "Home time.. home time! WLX makes sure you get home time."
Veteran owner operator, Paul Maycroft is also very happy with WLX and is especially impressed with the management's open-door policy when it comes to communicating with drivers. "Vice President Mike Murrell is available for questions and concerns from the drivers," says Maycroft.