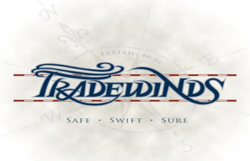 Arcadia, IN (PRWEB) May 03, 2013
Using the immediacy and widespread access of today's Internet technology, TruckingUnlimited.com has become one of the industry's most prominent web sites to revolutionize the recruiting process and provide a solution to today's growing truck driver demand. With the simple objective of connecting the best matching candidates to the industry's best truck driving jobs, TruckingUnlimited.com has become the on-line solution of immediate access and wide spread exposure for all. State by state, city-by-city, company-by-company, job-by-job and applicant-by-applicant, TruckingUnlimited.com is providing the entire US trucking industry with the most efficient recruiting process right to their fingertips.
As one of the top paying employers in the industry and treating their team with family like integrity, Tradewinds certainly meets the caliber of trucking company that TruckingUnlimited.com lists on their job site. The full service transportation company, specializing as a long haul, dry van truckload has grown to a fleet of over 150 tractors and over 240 trailers and is currently in need of immediate van and flatbed owner/operators. While the company is headquartered in Arcadia IN, they need qualified drivers to help facilitate their quality service that now extends to customers in all 48 states across the US.
Tradewinds has created its niche within the transportation industry by providing outstanding customer service with top quality equipment, cutting-edge technology, experienced drivers and operations personnel who know what it takes to exceed their customers' expectations. The company also believes that retaining their quality team means nurturing important core values on both ends. Running a clean ship, Tradewinds has high expectations of their drivers and in return, they guarantee honesty, communication, respect and personal attention to everyone's careers and personal life.
Another thing that Tradewinds can guarantee is that their pay package is among the industry's top. They evaluate the pay every few months to insure that it continues to be the leader in the industry. In addition to excellent pay, Tradewinds is also aware of the next most important thing to today's generation of truck drivers – regular home time. Considering family life as important as running a successful business, Tradewinds does their best to meet their drivers needs and guarantees honesty about what they're able to provide before any driver signs on.