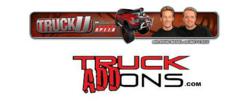 Anyone who has been thinking about adding accessories to his or her truck simply can't afford to miss this exciting broadcast.
(PRWEB) May 04, 2011
Coming up On Saturday, May 7th 2011 at 8:30 a.m. the cable channel, SpeedTV, will air the results of its 2011 F150 pickup truck makeover. Partnering with Truckaddons.com, the makeover was performed using several different accessories available on the site. The accessories were designed by a variety of truck accessory suppliers and are available for purchase by the general public. Viewers will get to see firsthand what these accessories look like when installed, how well they perform, and whether or not they live up to their claims.
One of the main truck accessories used was the Rugged Cover hard folding tonneau cover. This truck bed cover installs easily, guaranteed to go on and off in six minutes or less, and comes with all necessary parts for assembly. No tools are required for installation, and the cover's aerodynamic design makes for easier, smoother driving and better gas mileage. These statements, and all others, will be put to the test when the program airs.
Another accessory used in the makeover was the Westin Winch mount bull bar, an attractive add-on with three bright bulbs and a sturdy 3 inch tube for maximum visibility and safety during off-road adventures. The makeover also made use of another Westin product, the 3 inch oval tube step nerf bars, which are weather-resistant and allow for easier, safer access into or out of the vehicle. This stylish design comes with a lifetime warranty and will prove its durability during the program.
Also showcased is the Rough Country 6 inch lift kit suspension system and Bushwacker fender flares. The flares used have a unique look and are simply designed in order to install easily. The crowning touches for the newly made over truck will be a set of XD Series Off Road wheels and Nitto Trail Grappler tires for off-roading. The Nitto Tires promise to be both quiet but capable. To see how well these tires and all of the other accessories perform, viewers will need to tune in to one or both of the viewings. This is a once in a lifetime chance for truck owners to see how actual products are installed and whether or not they work before they buy. Watching this program, then, has the ability to save viewers a lot of time, money, and effort.
Each brand name participating in the truck makeover is a supplier for Truckaddons.com but was willing to have its products put to the test. For more information about this program or to check local listings, visit http://www.truckutv.com or http://www.speedtv.com. Both channels are available on most cable and satellite networks, though the actual channel number will vary from area to area. If you don't already have this channel, there's still time before the big program. Contact your cable or satellite provider today. Anyone who has been thinking about adding accessories to his or her truck simply can't afford to miss this exciting broadcast.
###