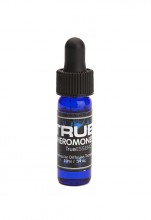 True essence is just great. I wear it with True Trust for Men and the combination is just what I needed for the dating world.
(PRWEB) February 05, 2013
True Pheromones releases their brand new pheromone product True Essence oil. It is a pheromone product for men. This pheromone contains 11 mg of pure Copulins. This pheromone infused product is available in a dropper style bottle.
Copulins are secreted exclusively by women during their ovulation period and are known to be extremely powerful when combined with other pheromones, especially, Androstenone. Copulins are produced by ovulating woman, which is a time where that female has the highest chance to get pregnant, and as a result attraction for men increases 10 times.
Copulins have a strong odor to them and for this reason, it is highly recommended combining this with a scented cologne for example True Pheromones spray-on products. Pheromones infused in oils, like True Essence are highly effective as well as slow releasing. Medical experts advise users to begin with just a single drop of this pheromone applied to a warm region of their body such as their neck or back of the ear. The effects of this pheromone lasts for about 8 to 10 hours. Reapplication of this pheromone again in the day is not needed.
For several years, True Pheromones has been making and offering women and men pheromone products to customers worldwide. It has provided products to more than 20 thousand consumers located in various parts of the world. This supplier is centered at Canada. All their products are produced with the best quality pheromone molecules in the industry. Unlike other pheromone companies, if a consumer is disappointed with the pheromone effects they can send the product back and obtain their cash back. This guarantee is valid for 365days.
A True Pheromone customer states, "True essence is just great. I wear it with True Trust for Men and the combination is just what I needed for the dating world."