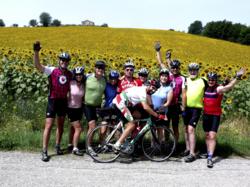 It is the Tuscany you've always dreamed of with rolling hills, amazing wine and pasta, and ancient villages.
Arlington, MA (PRWEB) May 09, 2013
Ciclismo Classico, a leading outfitter of cycling vacations around the globe, is excited to offer the six-day "Assaggio Toscana" Tuscany cycling tour. This entry-level Tuscany bike tour explores one of the world's most beloved regions, with an emphasis on delicious food and wine along the way. Guests pedal the twisting roads of the upper Val d'Arno, a series of terraced foothills along the river Arno. These graceful hills are a curious blend of microclimates and a fertile ground for vineyards, olive groves, and nut trees. The tour visits the medieval village of Cortona, featured in the film "Under the Tuscan Sun," among other idyllic Tuscan destinations, covering 147 miles by bike. Departure dates are June 10th, September 1st, September 16th and September 30th. The June 10th and September 30th departures are currently being offered at a discounted rate of $300 off. For more information on this Tuscany cycling tour or other tours in Europe, call 1.800.866.7314 or visit http://www.ciclismoclassico.com.
The first two days of this gastronomically focused bike tour zigzag through the olive groves and stone villas that line Sette Ponti (The Roman Road of Seven Bridges). Guests wind through the sun-drenched Pratomagno range and stop for breaks in picturesque towns peppered with fig trees, vegetable gardens and vineyards. Medieval churches, quaint hamlets, and charming landscapes abound. A highlight of this ride includes visiting an olive oil press to sample Tuscany's exceptional blends.
"It is amazing to taste and learn about the intricacies of authentic Tuscan olive oil," said Ciclismo Classico Founder Lauren Hefferon. "There is nothing quite like cold-pressed, 100% Tuscan extra virgin olive oil directly from the source."
After spending the evening in an authentic boutique hotel, guests ride through olive groves en route to the Renaissance gem Arezzo, home of the works of Piero della Francesca and the backdrop for the Oscar-winning film "Life Is Beautiful". Cycling the flatlands of La Val Di Chiana leads to a late-afternoon walking tour of Cortona, an exquisite hill town filled with Roman arches, Etruscan tombs and Renaissance palaces.
"The La Val Di Chiana region is rich with extraordinary history dating from the Etruscan and Roman periods," said Hefferon. "The cultural heritage is well preserved in the museums, archaeological ruins, monuments, and historic centers."
An evening of world-class wine tasting and Tuscan cuisine prepares guests for a morning ride that crosses the border to the Green Heart of Italy—Umbria—and the blue waters of Lago Trasimeno, a favorite route for local cyclists. The tour concludes with one final stroll around Cortona.
"Loved the variety, from country setting to urban landscape to Old World charm," said Zachary, a recent guest.
For more information on this Tuscany cycling tour or other Italy cycling tours, visit http://www.ciclismoclassico.com or call 1.800.866.7314.
About Ciclismo Classico:
Join a Ciclismo Classico tour and you'll soon find yourself "Pedaling your Passion," a uniquely "Italian" approach to bicycle travel that embraces La Dolce Vita at every turn and invites you to find your very special passion on every tour. Whether it's soaking in the scenery, learning to make pasta, taking hundreds of photos or learning about Renaissance architecture, you'll re-connect with your own passion with our special native guides who connect you to the culture and landscape like no one else can. At each culture stop, restaurant and lodging owners greet you like family and lavish you with magnificent food and wine. You're immersed in the local culture and always with friends. Ciclismo Classico transforms a European cycling trip into an eye-opening, life-altering adventure you'll never forget. Come ignite Your Passion and pedal with us!