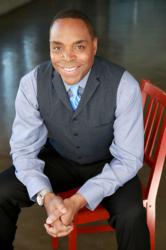 Latinos are a group that is under represented in the stock market and under served when it comes to getting a financial education.
Los Angeles, CA (PRWEB) May 01, 2013
Tyrone Jackson, founder and teacher of The Wealthy Investor program, says "Learning how to invest and successfully manage your own money is not difficult, but someone has to teach you how." Now Jackson has created a series of teleconference lessons to do just that. While everyone is welcome on the calls, Jackson says that they are especially beneficial for Latinos, a group that is under represented in the stock market and under served when it comes to getting a financial education.
The 2010 Census found that Latinos in the U.S. now number 50.5 million, which equates to one out of every six Americans. From 2000 to 2010, over half of the nation's population growth was due to Latinos, and the percentage of Latinos has increased in every state.
Yet, this explosive population growth has not been met with an increase in investing. According to the US Social Security Administration only 7% of Latinos own stock in comparison to 36% of the white population. However, according to Jackson, it is easy to enter the stock market and build wealth through trading and investing in stocks by following just a few simple guidelines:
1) Start early. Putting money away in an investment account works best if you start early. Your thirties can be a great time to start investing. Money grows exponentially when it has time to mature.
2) Start small. Starting small, fifty or one hundred dollars per month, can add up over a three year period.
3) Invest regularly. Wealth is nothing more than a series of positive financial habits. Most self-made millionaires are in the habit of investing money on a regular basis and at regular intervals.
4) Set goals for your money. Setting goals is very important. When goals are set a financial future is actively designed. When the future is viewed as a canvas in financial terms, any portrait can be painted.
5) Learn how to invest and trade stocks. Trading time for money in a job only goes so far. In order to build true wealth, money must be put to work in the stock market to grow on its own. Additionally, stocks are assets that can be passed on from one generation to the next.
"When you own stock in publicly traded companies, you own a portion of the company. In the stock market any investor can own shares in well-known companies like McDonalds, Coca Cola and Verizon," says Jackson. These companies are part of the Dow Jones Industrial and produce billions of dollars in profit every quarter. As a result, their stock prices tend to rise over time. Jackson continues, "Best of all, their shares trade for less than one hundred dollars. Any investor can start with one share and watch the value increase over time. Latinos who choose to learn how to invest will be creating wealth for themselves and their family for generations to come. "
A new itinerary of affordable "Wealthy Investor" seminars is being finalized now. Priced substantially lower than typical investment workshops, "The Wealthy Investor" is about reaching the greatest number of people to maximize their good fortune. The next opportunity to learn more is through two free teleconference workshops, "Basics of Stock Market Success," on Tuesday, May 7 & 21 from 7:00 - 8:00pm PDT. Visit http://www.TheWealthyInvestor.net to sign up for the teleconference calls and also get a free "Stock Market Success" newsletter.