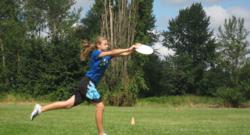 These camps are helping to build confidence, skills and sportsmanship.
San Rafael, CA (PRWEB) April 24, 2013
Discraft is passionate about Ultimate, and that's why the Discraft 175 gram Ultra-Star is the world standard for Ultimate. Ultra-Star was selected as the official disc for championship play by USA Ultimate in 1991, an honored position that it has exclusively held for over 20 years. Today there are 4.9 million Ultimate players in the U.S. alone, and virtually all of them throw the Ultra-Star.
"Discraft has been committed for over 30 years to providing youth with opportunities to learn the healthy joys of playing Ultimate, and the Nike Ultimate Camps are one hundred percent in line with our goals," said Discraft Ultimate Director Pad Timmons. "These camps are helping to build confidence, skills and sportsmanship, while simultaneously introducing the low cost and health benefits of Ultimate to new corners of local communities. It was a natural fit for Discraft support, and we encourage players to explore what the camps have to offer."
The goal of Nike Ultimate Camps is to provide an unparalleled summer camp experience for growth and development of youth ultimate players by immersing them in the sport and giving them the kind of focused, intensive training essential for their improvement. Nike Ultimate Camp locations include New York City, Philadelphia, North Carolina, Minneapolis, Oregon and Denver, among many others.
About US Sports Camps, Inc.
US Sports Camps (USSC), headquartered in San Rafael, California, is America's largest sports camp network and the licensed operator of Nike Sports Camps. The company has offered summer camps since 1975 with the same mission that defines it today: to shape a lifelong enjoyment of athletics through high quality sports education and skill enhancement.
Players, coaches, parents and others interested in Nike Ultimate Camps and US Sports Camps can visit the company's website at USSportsCamps.com/ultimate or phone 800-645-3226.