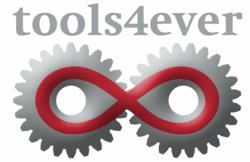 Lynbrook, NY (PRWEB) December 17, 2012
Tools4ever, the market leader in identity and access management solutions, announced today that its product, User Management Resource Administrator (UMRA), has been named to the 2012 Readers' Choice Top 100 Products by District Administration magazine.
Winning products were nominated by readers of the magazine, from which the editors selected the final winners. The annual award recognizes the leading products and companies serving educational entities throughout the United States.
Tools4ever has more than 10 years of education service experience and currently serves more than 1,100 educational entities including public and private school districts and institutions of higher education including two- and four-year universities and technical colleges.
"Serving educational entities has always been one of Tools4ever's highest priorities, and ensuring that our products best meet their needs and help them accomplish the current and long-term goals," said Dean Wiech, managing director of Tools4ever. "We're honored, yet thrilled, to be included among the vendors and products on the list, especially since readers of the magazine nominated us for the second consecutive year.
"For us, there is no higher compliment than receiving such a positive endorsement than the ones we serve," Wiech said.
Some of their other software solutions for education include Self Service Password Reset Management (SSRPM) and Enterprise Single Sign On Manager (E-SSOM).
Tools4ever's UMRA is an enterprise software solution for timely, accurate, uniform and simple user account management. It includes a complete identity and access management environment that organizations use to create, update and delete user accounts rapidly and uniformly in a wide range of applications and systems. It also allows for tasks to be delegated to the helpdesk, managers or end users.
"There were so many excellent recommendations from school administrators who shared how the products made significant differences in their districts, and choosing the Top 100 proved to be challenging and difficult," said Odvard Egil Dyrli, District Administration's executive editor. "We are delighted to announce the honorees for 2012 and trust that the list will be a valuable resource for our readers."
To learn more about Tools4ever, visit http://www.tools4ever.com.
For more information about UMRA, visit http://www.tools4ever.com/software/user-management-resource-administrator/.
About District Administration
District Administration is the leading provider of smart management solutions for K-12 administrators at school districts throughout the United States, and is the most-closely followed and most-widely read information source in the industry, bringing top-quality journalism to the unique issues, challenges and opportunities faced by K12 district executives. For more information, visit http://www.DistrictAdministration.com.
About Tools4ever
Tools4ever distinguishes itself with a no-nonsense approach and a low total cost of ownership. In contrast to comparable identity and access management solutions, Tools4ever implements a complete solution in several days rather than weeks or months. Because of this approach, Tools4ever is the undisputed identity and access management market leader with more than five million managed users. Tools4ever supplies a variety of software products and integrated consultancy services involving identity management, such as user provisioning, RBAC, password management, SSO and access management. For more information, please visit http://www.tools4ever.com.