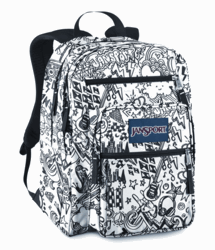 I've been shopping around and Ideal Stationers has the best prices in Marin
Mill Valley, CA (PRWEB) June 14, 2013
It's not too early to begin thinking about saving for back-to-school season. The cost of purchasing back-to-school supplies puts a strain on the budget in August. Shoppers can start saving now on back-to-school supplies by taking 20 percent off Ideal Stationers' already low prices on their entire line of JanSport backpacks.
All JanSport backpacks available at Ideal Stationers will carry the 20 percent off discount through June. JanSport backpacks are designed to be durable, functional and versatile. Students can choose from JanSport's new and trendy designs for everyday backpacks. They also offer rolling bags for those who will be doing some traveling during the next school year. These bags are not only durable, but great looking.
For teachers who will also be doing some back-to-school shopping, Ideal Stationers will take 10 percent off any regular priced merchandise throughout the year. It's their way of saying thanks to those who teach.
Ideal Stationers is a premier shop for school supplies and office products. Their unique supplies are nothing like the ordinary products found in big box stores. Not only do they have a unique product selection, but they also offer low prices. They also have a group of employees committed to understanding their customers' needs and providing top-notch customer service.
Ideal Stationers has retail stores in Mill Valley, San Rafel and Novato. Give them a call at (415) 326-7411 or visit http://www.officeproductssanrafael.com.
About the company:
Ideal Stationers is a business well known to Marin County residents. They presently operate three retail stores, offering office products, personalized stationary and unique gifts. Ideal Stationers is competitive with the superstores because of its membership in a buying group with over $7 billion in purchasing power.
Today, 30 people are employed at Ideal Stationers. Employees are committed to understanding their customers' needs and serving them with pride and excellence. With a rich tradition of putting customers and employees first, they believe in strong loyalties and long-term relationships. As a result, the company has achieved steady growth throughout the area.