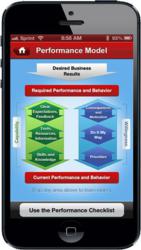 Entelechy's PerfChecklist is the simplest and most effective tool to ensure your employees' performance.
Merrimack, NH (PRWEB) April 24, 2013
Most managers would rather immerse their hand in boiling water than deal with employee performance issues. For many, it's the uncertainty of the situation and the feeling that "perhaps I haven't done enough" to support the employee.
Entelechy's PerfChecklist takes much of the guesswork out of managing employee performance, enabling managers to confidently address employee performance. PerfChecklist is based on Entelechy's Performance Model, which links business goals to employee performance and behavior. If performance and/or behavior isn't what it could be or should be, PerfChecklist looks at the employee's capability and willingness to perform to the desired level or to behave in a certain way.
Using a series of eight insightful questions, the user identifies which elements are likely impacting performance. PerfChecklist provides suggestions specific to those elements and allows you to store the suggestions as My Takeaways. You can email the suggestions to yourself for future action.
PerfChecklist is also great for preventing performance issue from occurring. Using Entelechy's Performance Model, managers can ensure they've provided the support and motivation employees need to perform BEFORE work is assigned!
More information about Entelechy's PerfChecklist can be found at /http:/http://www.unleashyourleadership.com/resources/performance-checklist-mobile-app
Learn how to use PerfChecklist at http://www.youtube.com/watch?v=jXctgKY6qS4