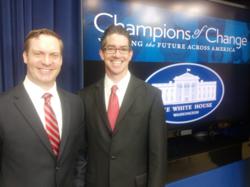 According to Cronin, "our plan for CDOT Mobile is to continue to develop and innovate. In the future, we envision a multi-modal application incorporating all modes travel – making CDOT Mobile the ultimate source for transportation information."
Denver, CO (PRWEB) May 13, 2013
The Hub Companies, LLC was honored at the White House for the development of "CDOT Mobile" the new Smartphone mobile application, created on behalf of the Colorado Department of Transportation (or CDOT). CDOT Mobile provides travelers with real-time information such as highway conditions and speeds, and traffic information surrounding major projects, allowing travelers and allows users to make better decisions about travel mode and route was honored as a "White House Champion of Change".
The development of CDOT Mobile is part of a five-year, public-private partnership between the Colorado Department of Transportation and The Hub Companies, LLC. The Hub Companies was selected as part of an RFP process conducted by CDOT to develop and monetize its critical traveler-related highway data. In addition to leveraging CDOT content as well as supplementary data to create a real-time travel tool, urHub is also committed to investing $2.55 million to enhance and improve the application during the length of the partnership. The new application benefits more than five million residents statewide as well as Colorado's 52 million annual visitors, providing the information they need without taxpayer funds.
The Hub Companies' solution was one of 12 transportation initiatives recognized at yesterday's White House ceremony from amongst 180 nominations. "These Champions represent the very best in American leadership, innovation, and progress," said Secretary of Transportation Ray LaHood. "I'm proud to recognize these transportation leaders who work every day to grow our economy and help us reach our destinations more quickly, efficiently, and safely." CDOT's Director of Operations, Ryan Rice and John Cronin, CEO of The Hub Companies represented the partnership at the ceremony.
"We are thrilled to have received this recognition," said Rice. "We believe this public-private partnership was so honored because of its sustainable business model as well as the consistent plan for technology development and innovation." According to Cronin, "our plan for CDOT Mobile is to continue to develop and innovate. In the future, we envision a multi-modal application incorporating all modes travel – making CDOT Mobile the ultimate source for transportation information."
CDOT Mobile is the official mobile application of CDOT and is available free to users by downloading CDOT Mobile from the App Store or texting "CDOT" to 25827. It has been designed by The Hub Companies' urHub division specifically to improve the travel experience on Colorado roadways by making critical information such as highway conditions and traffic information more accessible, dynamic and interactive. LocalHub, The Hub Companies' white-label sales and marketing division monetizes the application through the sale of advertising so the taxpayers of Colorado aren't footing the bill for development and ongoing maintenance, improvements or enhancements to the App.
CDOT Mobile enables users to make better decisions about travel mode and route, resulting in a more productive, safe and efficient transportation system. It provides travelers with:

Speeds and travel times;
Road conditions and weather;
Road closures and other traffic-related incidents;
Road work, such as construction and maintenance activities;
Safety information
Directional maps; and
Feeds from CDOT's closed circuit television cameras, among other features.
About The Hub Companies, LLC
The Hub Companies, LLC, is a digital multiplatform organization providing solutions for content distribution and monetization within the Government and Municipal Sector focused on Transportation and Tourism verticals. The patent-pending mobile and digital technologies (patent number 3/843,474) developed by its urHub division provide the capability of selecting, connecting and directing consumers to real-time, relevant content based on expressed interests to create a high level of engagement. The Hub Companies turnkey marketing solutions combine urHub's proprietary technologies with content from its partners and its LocalHub division's ability to generate sustainable revenue.
About The Colorado Department of Transportation (CDOT)
CDOT's primary goal is to enhance the safety and quality of life and the environment of the citizens of Colorado by creating an integrated transportation system that focuses on safely moving people and goods by offering convenient linkages among modal choices. CDOT is responsible for a 9,146 mile highway system, including 3,447 bridges. Each year, this system handles more than 27.4 billion vehicle miles of travel. Although the Interstate system accounts for only about 10 percent (914 miles) of the total mileage on the state system, 40 percent of all travel takes place on Colorado's Interstate highways.
About The White House Champions of Change Program
White House Champions of Change program highlights the stories and examples of citizens across the country who are "Building an America to Last" with projects and initiatives that move their communities forward. All across the country, ordinary Americans are doing extraordinary things in their communities to out-innovate, out-educate, and out-build the rest of the world.
On May 8, 2013, the U.S. Department of Transportation and the White House Office of Public Engagement hosted a Champions of Change event on "Transportation Technology Solutions for the 21st Century." This Champions of Change event focused on individuals or organizations that have provided exemplary leadership in implementing transportation technology solutions to enhance performance, reduce congestion, improve safety, and facilitate communication across the transportation industry at the local, state or regional level.