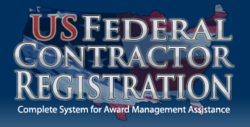 "Helping businesses not only survive, but thrive."

- US Federal Contractor Registration
Orlando, FL (PRWEB) December 05, 2012
US Federal Contractor Registration, the largest third party registration firm in the world prepares to expand their operation and offer available positions within the company. In just 3 short years US Federal Contractor Registration has aided over 45,000 businesses registering for federal government contracts. Thus giving small business the opportunity to grow their company and exemplify the American dream. US Federal Contractor Registration helps businesses register with System for Awards Management (SAM), which is required of every business looking to receive government contracts. USFCR creates marketing campaigns to connect businesses to federal procurement officers located around the nation. Their company's revenue continues to rapidly expand, generating over $20 million dollars since 2010.
US Federal Contractor Registration recently acquired more space expanding their operation allowing the company to hire more employees in multiple departments. They also plain to redevelop their social media image and create online video programming focusing on government contracting tips and SAM registration. Currently, US Federal Contractor Registration is hiring Case Manager Positions to handle regular business registrations, Women Owned Business registrations and Veteran Owned Business registrations. Applicants interesting in applying to become a Case Manger should have at least 5 years of experience working in customer service, a 4 year college degree, and be able to pass a government clearance background check.
If you currently meet these listed requires as stated above, please contact the Director of Marketing, Max K. Timko at mtimko(at)usfcrgov(dot)com and provide a brief cover letter, updated resume, and three past employer references.
US Federal Contractor Registration helps businesses network with Federal Procurement Officers and register for Federal Government contracts. Recently the company helped businesses register and create FEMA Vendor Profiles in the awake of Hurricane Sandy. When natural disasters occur in our nation, it is FEMA's job to employ contractors to help with the relief efforts. Eric Knellinger, President of US Federal Contractor Registration stated "Every business must be registered in System for Awards Management in order to be eligible to receive federal government contracts. We help each business properly register with SAM and prepare that business for federal government bidding." The biggest benefit that US Federal Contractor Registration offers is the year long support that they give to each contractor. Registration can often be confusing and take business owners/employees days or even weeks to fill out, which can still be rejected even after the fact. US Federal Contractor Registration provides Case Managers who are experts in SAM registration to help businesses easily register and have excellent appeal for federal procurement officers. US Federal Contractor Registration prides themselves on helping small businesses not only survive but thrive.
US Federal Contractor Registration is currently offering a free evaluation and review of vendors' government registration, including their SAM registration. During the evaluation, a Placement Specialist will review the company's government contractor registration to ensure it is complete, contains the correct information and is optimized to help them win government contracts.
US Federal Contractor Registration is a third party registration firm with corporate offices in Orlando, FL that has helped thousands of businesses complete their SAM registration and bid on contracts. US Federal Contractor Registration pairs businesses with a dedicated case manager who helps them every step of the way from initial registration to bidding on contracts.US Federal Contractor Registration's BBB rating is A- thanks to the quality of their service and responsiveness to customers. To request a free evaluation and assessment by a Placement Specialist for your business, call the Contractor Helpline at (877) 252-2700 ext 1 or visit our website at https://www.uscontractorregistration.com/.