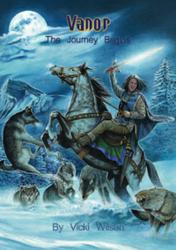 I hope that readers, both children and adults, will share the journey of Vanor and find the subtle weaving of life lessons within, taking these lessons into their own lives to give themselves hope and courage in our world of darkness and light.
Melbourne, Australia (PRWEB) April 30, 2013
Spirituality is often a component of the fantasy genre, which can be used to explore, or even teach, both spiritual truths and also philosophical understandings of the world. In this opening volume of a projected trilogy concerning a young girl's revelation of her destiny, fantasy serves as a vehicle for imparting deeper understandings to the reader.
Like many fantasy heroes, Vanor does not expect the role that the universe demands she accept. Daughter of a blacksmith, she was, at first, content with village life and learned swordplay only to test the swords that her father's apprentice made for the local soldiers. But swordplay interested her, and by age ten, she was sparring with the soldiers, and occasionally winning. It was also in her tenth year that the Old Man came to the village and had a sword made to exacting specifications. Upon its completion, he blessed it and presented it to Vanor, saying "You are chosen for a future time," providing the first hint that her life will expand far beyond the village of her youth, but also leaving her to question "Why had the Gods decided that she was the one to hold so much power and why had they not given her a book of instructions?"
But standard fantasy elements are not the only source of tropes found in Wilson's novel. As Vanor undertakes her quest to be a force of good, the New Age spiritual elements of the story unfold, some being treated overtly and others only alluded to. Some are mentioned by name, like crystals, lower elementals, teleportation in the realm of earth, and the seeing of auras that reveal—through subtle, colored radiation—the level of holiness, spiritual health, and/or particular power or emotional state of a person. Astral travel—the experience of dimensional travel through out-of-body experiences, and telepathic communication are both discussed without being named. Under the tutelage of a wise old wizard and a dashing knight, Vanor encounters the ideas of intuitive understanding, spiritual evolution, and beings working cooperatively towards a cosmic goal.
New Thought philosophy enters the novel through the idea of the divine in the human, represented by a white aura that signals total, unconditional love. The spiritual realm is presented as holding the ultimate reality, and self-healing by the spiritually enlightened is demonstrated. Healing through prayer and energy is practiced on Vanor as she has an out-of-body experience, and she practices it herself. But these aspects of higher consciousness are mixed in with "vials of bat wings," spells, and other typical fantasy magic. Wilson also livens up her story with unexpected contemporary elements, including water slides and modern slang.
Of her blend of standard fantasy with New Age and New Thought wisdom, Wilson says, "Hidden within the pages of this inspiring book, are psychological messages about grief, the mistakes of life, and how to move on from them; dealing with negative emotions, such as despair, fear and anxiety; and much more—all aimed at providing the reader with a deeper understanding of today's world. The lessons of life buried in the fictional story—whether they are about how your behavior affects others or the fact that there is more to life than what we can see with our physical eyes—encourage the reader to believe that even in the most dire of circumstances there are different ways to see a bigger picture, understand the problem as a whole, and act in a way that improves the future."
"I hope," Wilson concludes, "that readers, both children and adults, will share the journey of Vanor and find the subtle weaving of life lessons within, taking these lessons into their own lives to give themselves hope and courage in our world of darkness and light."
'Vanor: The Journey Begins' is published exclusively in eBook format by eBookIt.com and is available from popular online retailers, including Amazon.com, BN.com, and Apple's iBookstore.
About Vicki Wilson
Vicki Wilson is a freelance writer. She writes articles and blogs focusing on all aspects of personal development and is currently organising Australian tours. She is a DTM in Toastmasters International and has won numerous awards for her speeches and association within the District. She has a passion for growth of the "Self" for others and demonstrates that with her admirable speeches and writings. Vicki lives and writes in Melbourne, Australia.
About eBookIt.com
Since 2010, eBookIt.com (based in Sudbury, Massachusetts) has helped thousands of authors and publishers get their books converted to ebook format, and distributed to all the major ebook retailers, including Amazon.com, Barnesandnoble.com, Apple iBookstore, Kobo, Sony Readerstore, Ingram Digital, and Google eBookstore.
CONTACT
Vicki Wilson
0425 865 324
vanor3(at)gmail(dot)com
###