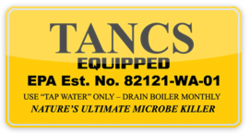 The yellow label tells you in a glance that your Ladybug qualifies as a disinfection device for the EPA.
Vernon Hills, Illinois (PRWEB) June 04, 2013
LadybugSteamCleaners.com, a global Internet dealer that offers Ladybug vapor steam cleaners online to consumers and businesses around the world—and to walk-in customers who visit their Chicago-area showroom—today announced that they have added new product picture to their website.
"We want our customers to know that we are proud of our products and that we are professional," says V. K. Dunlop of LadybugSteamCleaners.com. "Sure, we wrote all that down. But it's easier to look at beautiful photos of our incredible vapor steam cleaners than it is to read long paragraphs about them."
According to Dunlop, Ladybug leads the steam cleaner revolution with its line of steam vapor systems. Steam cleaners equipped with Ladybug's proprietary patented Thermo Accelerated Nano Crystal Sanitation technology (called TANCS®) are lab tested and scientifically proven to produce better results than traditional disinfectants.
"While bleach has been trusted for years as the perfect disinfectant, bleach leaves as many live bacteria cells as dead cells," says Dunlop. "But scientific testing has found that steam cleaners equipped with TANCS® kill the cells that are unreachable by bleach."
TANCS®-equipped steam cleaners proudly display a yellow label that says "EPA Est. No. 82121-WA-01" in bold letters.
"Don't be fooled by imitations," says Dunlop. "Ladybug is changing the way people clean with its revolutionary TANCS® technology. The yellow label tells you in a glance that your Ladybug qualifies as a disinfection device for the EPA."
Located in Vernon Hills, Illinois, LadybugSteamCleaners.com is moving fast to educate consumers and businesses that finally, there's a feasible, environmentally friendly alternative to chemicals. For more information, call 1-877-840-2977. LadybugSteamCleaners.com is a proud member of the Safer Chemicals, Healthy Families coalition, a nationwide effort to protect families from toxic chemicals. To stay safe and avoid toxic chemicals, keep abreast of the latest news with LadybugSteamCleaners.com's Twitter account, @LadybugSteam.