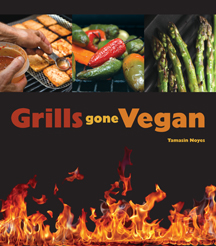 "Rarely am I inspired to try so many recipes, but with Tamasin Noyes' new book I could grill outdoors all summer long." Miyoko Schinner, author of Artisan Vegan Cheese
Summertown, TN (PRWEB) May 15, 2013
Cooking over an open fire has been in our genes for centuries and today three out of four American households own grills. Appropriately released in May (aka National BBQ Month), Grills Gone Vegan by Tamasin Noyes is a primer and a cookbook that covers the art and science of grilling. Expert tips will benefit both aspiring and experienced backyard chefs while an innovative collection of recipes expands the grilling repertoire of not only vegans but grill masters of all dietary persuasions.
Book Publishing Company—whose titles focus on plant-based cooking, nutrition and healthy living—was delighted to have a book that brings the joy of grilling to the vegan community and provides inviting options for anyone looking to include more plant-based meals in their diet.
Tamasin's overview of the types of grills available (gas, charcoal, electric, or grill pans for stovetop use) makes it easy for readers to decide which are best for them. All the recipes include methods for outdoor or indoor grilling, offering last minute options for cooks regardless of weather. Explanations on the intricacies of the barbeque from basic grill maintenance, temperature control, how to use smokers, and how to utilize different varieties of wood chips for heat intensity and specific aromas will have even beginners grilling like pros.
The real magic happens as Tamasin shares her secrets on how to infuse flavor into food using mouth-watering marinades and spectacular spice rubs. Blasé store-bought burgers and plain veggies are replaced with more than 125 creative, colorful and cruelty-free selections. Asian Spiced Cutlets, Grilled Ratatouille, Quinoa-Stuffed Poblanos, Tunisian Skewers and Mexican S'mores are a few of recipes among the lavish starts, irresistible main dishes, finger-lickin'-good sandwiches and decadent desserts. Tami also shows how to enliven any dish by adding grilled ingredients to a recipe and includes a few basic sauces and dressings that work as the perfect accompaniments. Dozens of menu suggestions for any occasion include summer cookouts, Sunday brunch, and internationally inspired meals. Grills Gone Vegan is the ultimate guide to vegan grilling.
Passionate about cooking, Tamasin Noyes spent several years as a cookbook tester for some of today's leading vegan authors. She is also the author of American Vegan Kitchen and the coauthor of Vegan Sandwiches Save the Day. Her blogs appear regularly at veganappetite.com.