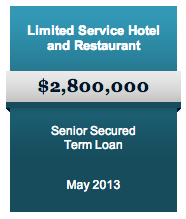 The Veritas credit facility assisted the investor group in meeting the deadline to complete the acquisition along with providing the needed liquidity to convert the hotel into a national brand
Boca Raton, FL (PRWEB) June 13, 2013
Limited Service Hotel and Restaurant
Located in the Southeast, the hotel features standard amenities and provides banquet and meeting facilities for various events and business functions. In addition, the property is conveniently located near a major interstate and international airport.
Veritas Provides $2.8 Million Funding Solution
Veritas Financial Partners successfully closed a $2.8 million term loan for the hotel to support its change in ownership and brand conversion. The Veritas credit facility assisted the investor group in meeting the deadline to complete the acquisition along with providing the needed liquidity to convert the hotel into a national brand.
About Veritas Financial Partners
Veritas Financial Partners is a leading national financial services firm that provides senior secured credit facilities to small and medium sized businesses. Veritas provides financing across a variety of industries and forms of collateral, including accounts receivable, inventory, equipment, and other fixed assets, as well as owner occupied commercial real estate. Commitments range from $1.0 – $25.0 million, and often involve facilities that blend various forms of collateral, providing the client with a single financing solution. The Veritas platform also serves as a world class loan servicer and asset manager for institutional investors such as community and regional banks, insurance companies, family offices, private equity funds and hedge funds interested in participating in Veritas's secured lending investments. Visit us online at http://www.vfpfinancial.com.