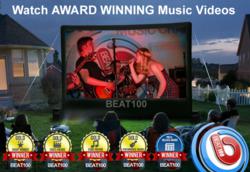 BEAT100 has been created as a platform for users to expose their strengths, socialise with friends and make new connections all in one place
(PRWEB) October 08, 2012
At BEAT100, our team is always trying to think of new and exciting features for its users. The site is constantly being developed and changed in ways that makes BEAT100 easier and better to use on a daily basis.
PAGE LAYOUT ON VIDEO NETWORK
A major change to the BEAT100 network is the new and improved layout of the page. Beat100 have made it easier for users to find videos of a favourite genre. Also users have even quicker access to view Latest Video Uploads and Awarded Music Videos.
GENRE PREFERENCES
Users can also change genre preferences in 'edit settings' so that videos of that genre will be featured on a users personal home page. For example, if a user selects the genres 'pop', 'rap', and 'rock' in preferences, then those will be the only types of videos that feature on that users page when logged in.
QUICK VIEW VIDEOS
The video network now includes the 'quick view' option on videos. This means that a user clicks the small 'play' button in the left hand corner of any video thumbnail, the video will simply play on that same page rather than taking you to view the whole video page. This enables users to watch more videos and find more videos the like!
MESSAGING & LIVE CHAT
BEAT100 have made some excellent changes to the live chat and messaging features on BEAT100, enabling users to only talk to others when they want to. Users can now turn inbox-messaging feature on or off, which means other users cannot message when it is turned off. Users can also set your live chat availability to 'Do Not Disturb', which prevents other users from talking on live chat when set.
'USERS VOTES CAST' PAGE
A new page that has been included on users social page is a tab called 'My Votes Cast' which allows users to access the videos they have voted for quickly and easily. This means users can vote daily for the same videos by going on the page and can also watch favourite users videos whenever they want!
PUBLIC LIKES
Unregistered users can now get involved in BEAT100 with its new public likes feature! This enables users who have uploaded a video to post videos up wherever they want and still receive likes from users who aren't interested in signing up on the site.
CONCERT TICKETS
BEAT100 being a social networking site, which includes other features all in one place! Therefore, BEAT100 have now included a page where users can purchase concert, theatre and sport tickets directly from BEAT100 through Seatwave distribution! This gives customers the ability to browse and keep up-to-date with new artists and shows all on BEAT100.
LINK FACEBOOK & TWITTER
Users can also link Facebook and Twitter pages to BEAT100 profile by going into 'edit settings' and entering the URL's. This means users can now share a video to Facebook and Twitter by clicking the share options for any social network a user wish to post the link to.
QUICK PROFILE PICTURE EDIT
Users can now change profile pictures quickly and efficiently on BEAT100 by hovering a cursor over a current profile picture and clicking the 'edit profile picture' button that appears. This saves users time by going into photo setting and is an easier way to share photos with users on BEAT100.
COMING SOON: NEW PROFILE PAGE LAYOUT
BEAT100 have a brand new and improved profile layout on users social wall, which includes more features and is easier for users to use. This layout includes a new mp3 player where users can upload music for others to listen to and can also create new playlists with favourite songs. The whole page will look slicker and cooler, and will include a more efficient social wall and better ways of posting status updates, pictures and videos. The new profile page will be gracing the BEAT100 network very soon for all our current and new users!