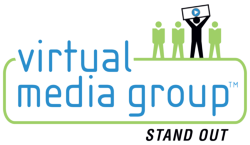 "Online videos are 53 times more likely than text to appear on the first page of Google."

- Forrester Research
St. Louis, MO (PRWEB) December 04, 2012
The objective of any corporation is to profit and make money. The way to do this is by creating a greater presence in order to recruit additional clients and customers. This is where top faculty and staff members have to make decisions on how to market the company without going over budget.
"One of the best ways to promote a company is by making a corporate video that introduces the business in a clear and concise format," says Todd Wallis, president and founder of Virtual Media Group.
The video can be embedded on the company's landing page and automatically play when someone clicks on the site. The video should be brief and quickly give an introduction to what the company is about and the products and services it offers. It is important that the video is brief, preferably no more than a minute because people are not going to sit around and watch a video that drags on for minutes. The video does not have to be anything fancy and could feature a representative for the company that thanks the visitor for visiting the site and quickly give a brief introduction.
A corporate video can go a long way in increasing customer and client conversion rates. With a video, visitors can quickly learn more about the company without having to skim through the site to read through paragraphs of bland text. With a video, all visitors have to do is listen for several minutes to familiarize themselves with the company.
"Online videos are 53 times more likely than text to appear on the first page of Google." - Forrester Research
In recent years, the marketing video has come onto the scene as one of the most effective methods for businesses across a variety of sectors to advertise services and products. Most videos are made to sell the products and services of a particular company. Once distributed properly, people will see it and then the marketing aspect really comes into play.
One of the most common marketing video strategies is putting it on a website or hosting site such as that of YouTube or Facebook. By having videos on your own website, you can effectively market to those who already visit your website, which is a type of direct marketing. When you post your videos on other sites like Facebook and YouTube, your message is most likely to be viewed by a much larger group of people. By marketing your business through videos that are more broadly viewed, you must also make sure that you incorporate brand awareness into your campaign and present the message in a way that targets users interested and ready to visit your business' website.
Regardless the size of your business, growth is all but inevitable if you wish to increase sales and when you utilize marketing video to reach a larger, yet unique client base you just cannot go wrong. The more people that see your product being advertised online, the more people that will end up buying it if it is a good product.
About Virtual Media Group
http://www.vmgonline.com
Virtual Media Group creates corporate video presentations quickly and easily that clearly explain what companies offer, delivering a compelling presentation to prospects before they speak with a salesperson. VMG videos engage viewers, guiding them to pick up the phone and take the next step in the sales process. Videos are easily forwarded, allowing company messages to reach more people than ever. As a result, VMG videos increase sales and decrease advertising costs. Founded in 2009, Virtual Media Group is in St. Louis, Missouri.
# # #
Contact: Kevin Wallis info(at)vmgonline(dot)com, (636) 375-0905