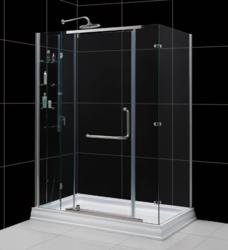 DreamLine Vista is a frameless, elegant, and spacious shower enclosure which is designed to be installed in a corner against finished walls
Aiken, SC (PRWEB) December 13, 2012
DreamLine Vista is a frameless, elegant, and spacious shower enclosure which is designed to be installed in a corner against finished walls. It uses anodized aluminum wall profiles for securing stationary panels at both ends of the enclosure; the profiles allow for some minor out-of-plumb adjustments. The Vista enclosure is reversible, thus can be used in a left or right corner configuration. It can be installed on a custom-made tile floor pan or on a corresponding DreamLine white acrylic shower base.
The Vista enclosure offers a solution for a large shower installation or a tub-to-shower conversion. It is crafted from 5/16" thick, clear tempered glass. All visible hardware comes in polished chrome finish only.
Vista SHEN-1134580-01 enclosure is 33" wide by 56 5/8" long and 72 7/8" tall; it has a pivoting door located in the middle of the wider wall. The door is 25 5/8" wide, it leaves a 24 3/8" walk-in opening when fully opened. The panel on the hinged side of the door is 17 3/4" wide, the one on the closing side of the door is 10" wide. The pivoting door is sealed against the side panel with a magnetic strip running the full length of the door's edge.
The panel on the hinged side of the door is integrated with an enclosed corner compartment holding three glass shelves. The compartment is enclosed with two clear glass vertical panels, one of which is stationary and the other one is pivoting on two hinges. The compartment's panels are sealed off with a magnetic strip.
The Vista enclosure can use a DreamLine SlimLine base: DLT-1036601-00 (left hand drain) or DLT-1036602-00 (right hand drain). It needs to be noted that the shower base is slightly over three inches wider and longer than the enclosure. The reason is that the base is attached directly to studs on two sides (in other words behind the finished wall), and the glass panels with the door are installed in the middle of the threshold.
DreamLine Vista shower enclosures are now available at Warehouse USA – http://warehouse-usa.com. They are on sale with free shipping throughout 48 contiguous states. For more technical information or if in doubt, please do not hesitate to call 888-693-8066.