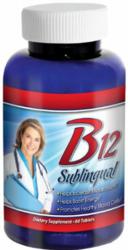 This new cherry flavored Vitamin B12 makes it much easier for people to get their daily requirements of B12.
Adel, IA (PRWEB) June 20, 2013
Nowadays, Vitamin B12 shortage is the common diagnosis among grown up individuals aged 30 to 50. This common concern can result to depression, fatigue and heart disease, but Vitamin B12 is the best solution. M&M Beauty and Wellness B12's cherry flavor is different compared to the typical vitamin B12 supplement available. The sub lingual method shows that these tiny tablets with cherry flavor are put under the tongue for about 30 seconds. This kind of delivery makes sure that the B12 is spread to the system fast, ensuring faster results as well. This tablet contains 1000 Mcg of B12 per tablet.
M&M Beauty and Wellness Sub-lingual Vitamin B12 cherry flavor may benefit the system in so many ways. One main benefit is its capability to trim down homocysteine. These are amino acids that are accountable for damaging the arterial walls, resulting in cholesterol buildup and increase in dangers of getting a heart disease.
Vitamin B12, as a result, is considered as a supplement, which can lessen the danger of getting a heart disease.
Other benefits of the vitamin B12 are its capability to increase energy, control the mood and regulate the appetite cycle and sleep cycle.
The M&M Vitamin B12 cherry flavor can be utilized to provide a fast boost to memory power. This supplement has been used for so long by students as assistance during examination as it has the capability to boost energy and lucidity of thought.
Sublingual B12 by M&M is also recognized to help trim down the danger of diseases related to aging such as dementia and Alzheimer's. In 2008, a researched published stated that people diagnosed with Alzheimer's and dementia also had a lower level of this vitamin. Vitamin B12, according to experts, is the best way to lift the amount of B12 in the system.
A current user of the new cherry flavored Vitamin B12 by M and M Beauty states "Great product. My doctor recommended I either get on a good Sublingual supplement or have B12 shots because my B12 count was too low based upon a blood test. I was a bit skeptical that a supplement would actually work, but figured I try it before subjecting myself to injections! After being on this sublingual's for a month - just once a day in the morning - I had a follow up blood test and my count went up over 300 points. Pleasantly surprised!"
The new cherry flavored Vitamin B12 by M and M Beauty is available now on Amazon and can be ordered at http://www.amazon.com/B12-Vitamin-Sublingual/dp/B005MH087Q
About M&M Beauty and Wellness, LLC
Headquartered in Iowa, M&M Beauty and Wellness, LLC delivers solutions that support health and well-being. All of the company's products are manufactured exclusively in US-based, FDA certified and inspected facilities.